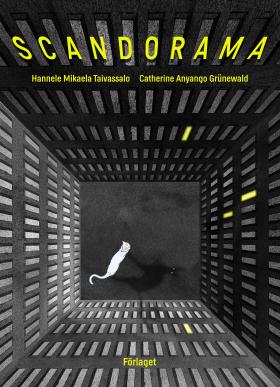 by Hannele Mikaela Taivassalo and Catherine Anyango Grünewald
reviewed by B J Epstein
Neoscandia is a terrifying place. In the clean, efficient 'drömhemmet' (dream home) city of Stohome, everyone is beautiful, perfect, and admired, thanks to the work of scientists at Gentek. Meanwhile, the dark, unpleasant 'ruinstaden' (ruined city) of Helsingy is filled with all the disabled, the different, the damaged, the disgusting, and the deformed.
Neoscandia is a dystopia set in the future, yet it isn't terribly hard to imagine today's world coming to resemble it. The experiments carried out on people, and the division of humans into desired and acceptable versus scorned and inferior, are strongly reminiscent of the Nazis' beliefs and behaviour during World War II – as well as of views in a variety of countries today. So Scandorama is both an interesting story in its own right and a necessary warning about the direction which some political policies and perspectives might be taking in some contemporary Western societies; for instance, the way certain groups are perceived as superior to others, and how some politicians want to keep refugees, asylum-seekers, or simply those of a different background out of particular countries.
The protagonist is Miskatt, a human- cat cross who knows few facts about her history. She has little choice or freedom, and little happiness in her life, and is forced to carry out a task she'd rather avoid. She is something of an anti-hero: while she doesn't believe in what Gentek is doing, she doesn't seem to want to play an active part in the underground movement against it either. What Miskatt wants – frankly, what many of us want – is to be left alone and to not to have to confront the truth. But that is not possible for her, not in Neoscandia. Instead, she is sent on a mission to bring someone back, and on the way she learns something about her own background while also beginning to engage with the resistance; the emotions and ideas here are more important than the actual plot. Although Miskatt does this initially against her will, she learns from it and seems ready to join the fight, as should we today; in an era characterised by Trump's 'fake news' - the idea that truth is a subjective construct - Scandorama reminds us to not ignore what is happening around us.
Scandorama is a graphic novel written by Finland-Swedish author Hannele Mikaela Taivassalo and illustrated by Swedish-Kenyan artist Catherine Anyango Grünewald. Both the words and the images are understated. The text leaves much unsaid, encouraging the reader to actively engage with the story and to try to understand the frightening implications underlying the subtle words. Grünewald's pictures, primarily in shades of black, white, and blue, are evocative of some of Edvard Munch's work. Together, the words and images create a tone that is specifically Scandinavian, yet at the same time scarily universal.
Taivassalo and Grünewald's Scandorama offers clear messages about how all people are of equal value and how 'othering' leads to problems, along with warnings about social, genetic, and medical engineering, and some of the dangers inherent in technology, which is often seen as intrinsically positive. Although this may sound like an overly didactic graphic novel, it is actually a page-turner, one that merits multiple re-readings and translation.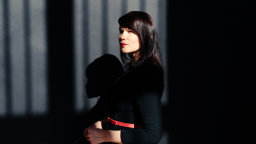 Förlaget (Finland), 2018
Not paginated
Rights:​ Leenastiina Kakko, Rights & Brands
Scandorama has also been published in Finnish by Teos