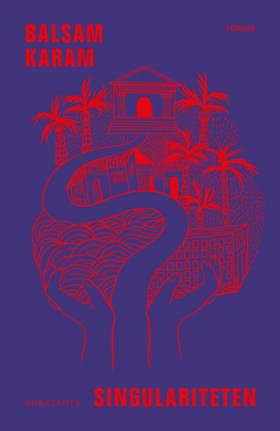 LATEST REVIEW
Singulariteten
(The Singularity)
by Balsam Karam
reviewed by Alice E. Olsson
On the far side of what is known as the 'event horizon' – the title of Balsam Karam's debut novel – lies Singulariteten (The Singularity). This is the mathematical and astrophysical term for the point at the centre of a black hole where matter becomes so dense that both space and time collapse: there is no longer any distance between bodies, and nothing can ever happen in what has become an eternal state.
This is the metaphor Karam powerfully wields to give shape to an ontology of loss and exile. Unlike dominant understandings from psychoanalysis, Karam does not present trauma as a delimited event that can be fixed in time and space. Rather, in Singulariteten, it becomes an all-consuming state, in which new losses are understood as part of a much longer history, perhaps already predetermined long before they happen.
The first part of the novel takes place in a city on the coast of a warm sea, surrounded by desert and mountains. Here, an undocumented mother walks the corniche lined with bars and restaurants, looking for her missing daughter. She used to work here, have you seen her? All the while, her younger children, playing in the alley where they also sleep at night, feel as though they have lost both their sister and their mother. A woman who knows the language, yet has spent her entire life in a much colder, wetter place, is here on a study visit for work. She is pregnant when she watches the mother throw herself from the corniche onto the rocks below.
In the second part, the woman asks herself if this was the moment her child died in the womb, though the doctors tell her it happened much later. They want her to take a pill that will induce labour, but she refuses. I come from a tradition of loss, she says. What is there if it must always be taken from you? The novel's mid-section reaches a crescendo in which the woman's experiences in hospital are overlaid with her memories of the corniche, of her mother and grandmother as their family fled the war, of her childhood friend left behind who died in an explosion.
The third and final part consists of short fragments in which the woman recounts their journey to a new country in the north, their time at the refugee centre, and their new life, trying to make sense of a new language, new flour, and new traditions in a place that takes them in but does not welcome them. Ultimately, the novel comes to a sharp and sudden end, as the woman, heading out for dinner on a work trip with her colleagues, puts on a dress and walks up the road to the corniche.
Once again, Karam manages a feat rare in today's literary market: carving out a language and lyricism entirely her own. She brings us a short and powerful novel written in grammar-bending prose, its sentences ingeniously constructed, winding like the corniche itself along the edge of an abyss where all meaning threatens to disintegrate. If Singulariteten has any weaknesses, it is perhaps this – the novel has little in the way of plot. Yet as the narrative moves in concentric circles around the same events, the same continuing traumas, it creates an irresistible gravitational pull.
By far Karam's greatest feat is her radical solidarity with her characters. Hints indicate they are the same mothers and children who were forced to leave their home by the foot of the mountain in Karam's first novel, Händelsehorisonten (Event Horizon). By stripping them of all but a few cultural markers, she refuses to allow her characters to become exoticised. Instead, she alternately challenges and teaches her reader to approach them, not as others, but as human beings.
Singulariteten is the second novel by Balsam Karam (born in 1983), a Kurdish author writing in Swedish. Karam works as a librarian at Rinkeby Public Library just outside Stockholm, in one of Sweden's most ethnically diverse areas. Earlier this year, she became a member of the jury for the Astrid Lindgren Memorial Award, the international children's literature prize. She has been awarded the Småland Literature Festival's Migrant Prize in memory of Vilhelm Moberg for her work portraying migration in our time. Karam has also been shortlisted for the Catapult Prize for debut authors, as well as the European Union Prize for Literature. In 2020, she was awarded a prestigious working grant by the Swedish publishing foundation Natur & Kultur for her singular literary achievements.
Singulariteten feels much more obviously personal than Karam's previous work. Like one of her main characters, Karam came to Sweden as a seven-year-old and shares with her a history of fleeing violence. This is also the first time Karam has written directly of the singular, unspeakable experience of losing her first child. Singulariteten is offered to the reader as a novel, and so any speculation on the degree to which events and characters may have been inspired by the author's own life is perhaps both futile and irrelevant. Yet I cannot help but feel that I have stumbled into a story more personal than I am prepared for, where I must tread lightly or risk being consumed by a pain both dark and magnetic.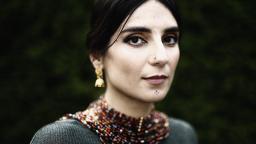 Norstedts, 2021
228 pages
Foreign rights: Linda Altrov Berg, Norstedts Agency
Nominated for Augustpriset 2021, in the literature category.
Händelsehorisonten (Event Horizon) was reviewed in SBR 2018:2. A translated extract from Händelsehorisonten appeared in SBR 2020:1-2.
Balsam Karam is an author and librarian and made her literary debut in 2018 with the critically acclaimed Händelsehorisonten, which was later shortlisted for the Katapult Prize.