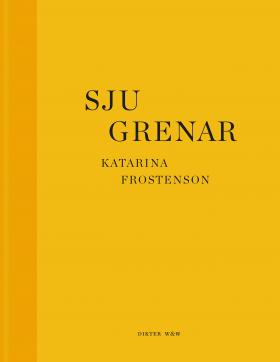 REVIEW
Sju Grenar
(Seven Branches)
by Katarina Frostenson
reviewed by Brad Harmon
It is an uncommon experience to read poetry which demands that the reader engage uncompromisingly with the words on the page. Further, as usual with Katarina Frostenson's poetry, it is futile to attempt to sift any definite themes out of the pages. This is not an unfamiliar condition for readers of Frostenson's work, but it is an unrelenting one. Sju Grenar (Seven Branches) shows a continuation of the thematic threads and stylistic structures that emerged in Frostenson's previous collections Sånger och former, 2015 (Songs and Formulae) and Flodtid, 2011 (Flood Hour), most notably the subtle but steady transition from interiority to exteriority which is evident in the poetic observation of social issues. However, Frostenson's poems are still personal, though they've never been private.
Frostenson's penchant for oppositions – not just of words, but also images – which intimate the emotional register, is again omnipresent. Some of the most electrifying lines are constructed with simple words which stand in stark contrast with the precise imagery of other lines, while others are formed by sensory images fabricated out of abstraction, out of the void. An awareness of a human- driven apocalyptic future underlies the whole collection, in line with but distinct from previous collections. 'Dagen' (The Day) presents the modern mediation of lived experiences: 'himlen var eldröd av fyrverkeriet / vi såg på skärmen i rummet i staden' ('the sky was fire- red with fireworks / we watched on the screen in the room in the city'). Conversely, it is almost suspicious when 'Två Ansikten' (Two Faces) observes two people not on their phones: 'Två ansikten / sida vid sida på bänken i t-banan […] utan skärmarnas blank i sina anleten / såg de ut bara / kanske väntande på stunden / uppfyllda av tomheten / försvunna i den' (Two faces / side by side on the bench in the subway / […] / without the screens' glow on their faces / they just looked out / perhaps awaiting that moment / brimming with emptiness / sunken in it). The poetic 'I' is often omniscient, empathetically yet distantly observing public spaces, stating in 'Avståndet' (Distance) that 'avståndet är din uppmärksamhet / […] / det avståndet gav mig mitt språk' (distance is your attention / […] that distance gave me my language).
Since the turn of the century Frostenson's collections have touched on some of the direst aspects of our modern society – climate change, financial crises, materialism, trash piles, the endless freedom we give ourselves to do what we want with the world. Sju Grenar is no different. 'Skaklar' (Shafts) confronts the 2017 terror attack in Stockholm. 'Tig min skatt' (Stay silent my tax) plays with the double meaning of 'skatt' – both 'tax' and 'treasure'. However, glimpses into the personal sphere are present. 'Far' (Father) reads almost like a letter: 'här är en dikt till dig på din födelsedag / januariman' (here is a poem to you on your birthday / January man). The shifts from personal to public, from existential to daily, from specific to general all create an affective charge that carries the reader through the collection.
Sju Grenar has received critical acclaim in Sweden, no small feat considering the cultural context into which it was born. Frostenson's poems coax the reader into their words inasmuch as the reader wants to be inside them. Let us disappear into the words while heeding Frostenson's warning: 'tanken kommer: vad är rätt när det inte finns någon kraft/ bakom orden (the thought comes: what is right when there is no power / behind the words).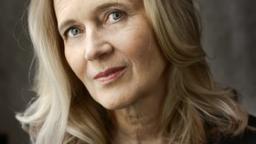 Wahlström & Widstrand, 2018. 163 pages.
Other works:
Tre vägar, 2013 (Three Routes), reviewed by Anna Tebelius in SBR​ 2014:1.
Flodtid, 2011 (Flood Hour), reviewed by Anna Tebelius in SBR​ 2012:1.
Karkas fem linjer, 2004 (Karkas Five Lines), reviewed by Frank Perry in SBR 2005:2.