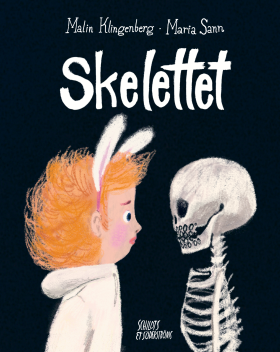 LATEST REVIEW
Skelettet
(The Skeleton)
by Malin Klingenberg, with illustrations by Maria Sann
reviewed by B.J. Woodstein


At a costume party, Teo is frightened by a friend dressed as a skeleton. So frightened, in fact, that he runs up a ladder in his own bunny costume, falls and ends up breaking an arm.
At the hospital, Teo is surprised to learn that he himself has a skeleton and that you can even look at it, with the help of an X-ray. He begins to ponder the idea of a skeleton: what it does, if it misses the person it belongs to after death, whether the baby growing in his mother's womb can see their mother's skeleton and if that's scary, and whether skeletons get sweaty too.
Gradually, Teo becomes more comfortable with the idea of his bones. He wants to hear stories about bones and to play games about skeletons. What once scared him now is an interesting fact in his life.
Malin Klingenberg's book captures the philosophical investigations children regularly carry out, accurately depicting the way knowledge helps them move from worry or confusion to acceptance and curiosity. The illustrations, by Maria Sann, are especially good at portraying the emotions playing on Teo's face; the way he is relaxed at the end, lying on a mattress near his friend Roni, tells the reader or the read-to that all is fine now and that skeletons are nothing to be scared of.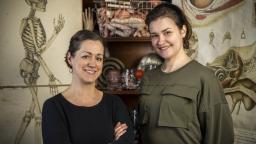 Schildts & Söderströms, 2023, unpaginated.
Foreign rights: Helsinki Literary Agency.
Malin Klingenberg is the author of numerous children's books. Her poetry book Fisens liv appeared as The Secret Life of Farts, translated by Annie Prime and published by Pushkin Press in 2020.
Maria Sann is an illustrator who has worked on children's books and book covers. In 2021, she was awarded the prestigeous Rudolf Koivu Award.