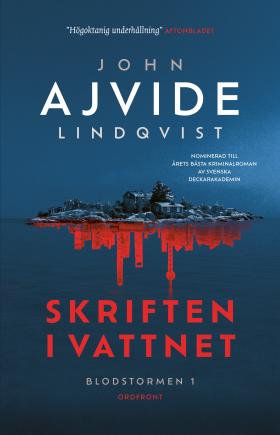 REVIEW
Skriften i vattnet
(The Writing in the Water)
by John Ajvide Lindqvist
reviewed by James Walker


On a perfect midsummer day in the Stockholm archipelago a group of people, variously from Sweden, China and France, are tucking into a traditional Swedish lunch alfresco when a boat suddenly approaches the jetty and the diners are mown down in a hail of gunfire.
Skriften i vattnet represents a change in literary genre for Ajvide Lindqvist, already very successful as a horror writer. For once, there are no ghosts or vampires as might be expected by anyone familiar with his previous books.
It started when Ajvide Lindqvist was commissioned to write the seventh book in the 'Millennium' series of novels, following on from the best-selling novels by Stieg Larsson and subsequent books in the series by David Lagercrantz. Lisbeth Salander and Mikael Blomkvist were to live on in a seventh book with a new author.
Ajvide Lindqvist's manuscript was rejected by the publisher and so he cleverly reworked the book, replaced the main characters with two new, complex characters. The result is a very good first crime novel, where he keeps the very fact of his manuscript having been turned down and cleverly weaves this into the narrative.
One of the main characters is Julia Malmros, herself a crime writer (and ex-cop). She is working on a new novel as part of the 'Millennium' series and she enlists the help of computer expert and hacker Kim Ribbing, as Lisbeth Salander, one of the main characters, is a hacker par excellence and she wants to get this super-hacker character right. She meets Kim for some instruction and insight into the murky goings on in the dark-web-world of super-hacking and already after their first meeting they form an odd sexual and emotional bond.
Kim Ribbing is nearly two decades younger than Julia, a divorcee, and is the only son in an affluent upper-class establishment family dominated by his grandfather. He is damaged by his childhood though. He lost his parents at an early age and so is alone in the world and chooses to drift through life and live from luxury hotel to luxury hotel rather than have a permanent home.
Julia's summer house is the neighbouring house to the one where the group were killed. One of the group, Olof Helander, the man hosting the ill-fated lunch, was her childhood best friend. She and Kim Ribbing witnessed what happened from the deck of her house and were the first on the scene. Kim rescues the only person to survive the attack – Helander's teenage daughter Astrid, who had time to dive into the water to save herself.
The police investigation into the killings gets underway and is being conducted by Julia's ex-husband Jonny. As witnesses to the killings Julia and Kim are quickly drawn into the investigation.
Amongst those killed was a Chinese businessman and his wife and it soon becomes apparent through Julia and Kim's unconventional methods of investigation that there is a link between Olof and China, the oil business there and in neighbouring Norway, as well as with Olof Helander's own business affairs.
Due to Kim's super-hacking abilities and a network of hackers he has hooked up with over time, facts begin to emerge that point to a possible involvement directly from China and a historic oil embargo with Cuba.
Skriften i vattnet is the first in a series of planned novels and has the subtitle Blodstormen 1 (Bloodstorm 1). At the end of Blodstormen 1, there is still some unfinished business, presumably soon paving the way to the follow-up Blodstormen 2.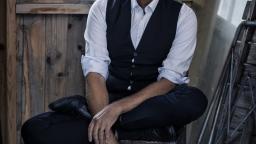 Ordfront, Stockholm 2022
473 pages
Foreign Rights: Nordin Agency
Nominated for the Swedish Crime Academy's Best Swedish Crime Novel Award in 2022.
John Ajvide Lindqvist is a horror writer with over 14 novels to his name, including Låt den rätte komma in (Let The Right One In), which was also made into a film. A number of his previous works have been reviewed in SBR, including Himmelstrand (Heaven's Beach), reviewed in SBR 2015:1, and Rörelsen: den andra platsen (I Always Find You), reviewed in SBR 2016:1.