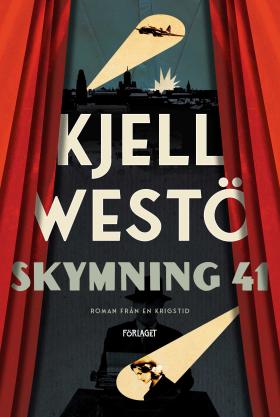 LATEST REVIEW
Skymning 41
(Dusk 41)
by Kjell Westö
reviewed by Anna Paterson

There are premonitions of war in Hägring 38 (The Wednesday Club), one of Westö's many novels set in Helsinki and thereabouts. In 1938, the threat horizon is grim – 'looming shadows of violence and war flicker inside the dark cave of the future'. Happiness seems as elusive as a dream.
 When Skymning 41 (Dusk 41) begins, Finland's Winter War lurks in the recesses of the recent past. The previous winter (November 1939-March 1940) had been terrible: Finnish and Russian forces fought through deep snowdrifts, across frozen waterways and in temperatures sometimes reaching 40 degrees below zero. Behind the frontlines, suffering took other forms. Death and damaging injury grievously depleted families and groups of friends, and rationing made hunger and cold harder to cope with. Molly Timm, a successful young actress, looks back on life before the war: 'What's the point in falling in love, having babies or burning for your Art, when it takes just a few months for the war to ruin twenty years of people's hopeful endeavour in Europe?' Shaken, she had watched as a leading actor taking the applause 'dissolved on stage, and became a trembling, sobbing old man' – he had been undone by the death of his young soldier son. To survive grief and deprivation, new life-skills became essential. Empathetic and precise, Westö makes us realise just how much cigarettes and aquavit mattered to let you stay alert, muffle pangs of hunger and forget your nightmares. He conjures up images, like the entire forest-worths of cut timber piled up in city squares for heating the capital, as the soldiery had embargoed all other fuels.
Meanwhile, the newspaper headlines are black and terrifying: large armies are confronting each other in a new European war. For many, the nation's preparedness for yet another fight demanded that you bent to forces beyond civilian control. Molly's lover and official fiancé, Henry Gunnars, is a talented journalist whose freedom to write becomes increasingly curtailed. He had worked as a war correspondent and been injured in the course of duty, but his compassionate, realistic reports were not welcome. Newspaper bosses, leant on by military information staff, wanted stories of heroic acts or else heart-warming anecdotes. Henry, who struggles not to remember the awful things he has seen, finds himself sidelined at work. He is being talked to by a senior officer, who 'did what Power always does: listened, evaluated, calculated if you could be useful.' Henry gets nowhere by referring to 'moral and philosophical problems' and asking if military censorship wouldn't reduce their nation to the level of their authoritarian neighbours.
Molly and Henry love each other, despite or perhaps because they are fundamentally different personalities; their on-off relationship is the sustaining plot line. Alternate sections focus on either Henry or Molly, and the all-knowing author knows how they individually perceive things, and why they plan and respond as they do. Other characters take shape and gain depth, but are seen through the eyes of the two protagonists. The telling-not-showing amounts to authorial risk-taking, but Westö is always in insightful control.
The spring is late in 1941, but when the sun starts warming the people and the landscape, the writing glows with it. Westö evokes the beauty of his city, its archipelago and nearness to nature. This is when, after a long rift, Molly and Henry find each other again and make love in their Korsnäs summer house. But it is also when WW2 comes to Finland: Germany attacks Russia on 20 June and immediately, following the bizarre logic of wartime, Russia attacks Finland and Nazi Germany offers the Finns its unwelcome support.  Inevitably, war tears the lovers apart but though the future is bleak, there is hope still.
It is impossible not to love and admire Dusk 41. It wins on all counts: a sad, sympathetic and captivating story of the two lovers and their gallery of family members, friends and enemies, as well as an engrossing narrative drawn from Finland's complex history. It is a thoughtful, deeply humane novel.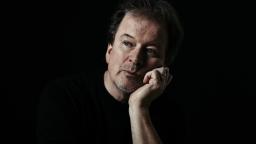 Albert Bonniers förlag (Sweden) and Förlaget M (Finland), 2023, 410 pages.
Foreign rights: Monica Gram, Copenhagen Literary Agency.
Kjell Westö is one of Finland's foremost writers. He made his literary debut in 1986, and since then has published poetry, collections of short stories, and novels. His international breakthrough came in 2006 with the novel Där vi en gang gått (Where Once We Walked, reviewed in SBR 2007:1), for which he was awarded the Finlandia Prize. Among numerous other honours, Westö was awarded the Nordic Council award 2014, for his novel Hägring 38 (The Wednesday Club, an extract from which appeared in SBR's 2013 Finland-Swedish issue, in Sarah Death's translation).