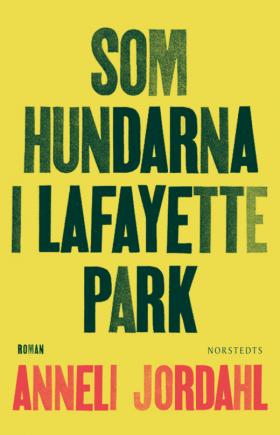 REVIEW
Som hundarna i Lafayette Park
(Like the Dogs in Lafayette Park)
by Anneli Jordahl
reviewed by Nichola Smalley
Class has been a preoccupation in Anneli Jordahl's writing, to an extent seen in the work of few – if any – other writers in Sweden today. Som hundarna i Lafayette Park is no exception: Jordahl's fourth novel takes the reader into the world of Jeanette, a 60-something widow whose steelworker husband Boris died five years ago in an explosion at the plant where he worked. Jeanette finds solace in her dog, also named Boris, and catharsis in her 'death book' – an obsessively updated record of the unreported details of workplace deaths across Sweden. Fanny, her daughter and only child, is a source of frequent consternation: in equal parts worried and embarrassed by her mother's obsessive behaviour and inability to 'get over' her late husband's death, she tries to engage her in other interests. These attempts give rise to the main plotline: Fanny buys her mother a documentary on DVD about the radical activist and philosopher Angela Davis and the Black Panthers, leading Jeanette into a new obsession as she begins to find links between the workers' struggle and the US Black Power movement. Again prompted by Fanny, Jeanette attends a conference in San Francisco at which Angela Davis is speaking, a trip that gives Jeanette a chance to expand her horizons and reassess her assumptions. It also gives Jordahl an opportunity to depict some of the anxieties of a shy older woman at large in the world.
Jordahl's exploration of the complex and far-reaching impacts of class on an individual's life chances, self-image and mental well-being offers a welcome critique of class politics in a country where these impacts have for decades been underestimated in society and under-represented in literature. As a social critique, Som hundarna i Lafayette Park does a great job of laying bare the injustices large and small that affect working-class people collectively, while setting them within a predominantly interior narrative that makes those injustices come to life on a personal level.
There are many things to enjoy about this insightful, empathetic book, but the main one is probably the way Jordahl portrays the self-doubt and clumsiness of an older widowed white working-class woman and enables the reader to inhabit her world – a world often overlooked in literary fiction. One of the novel's most successful aspects is its depiction of the tension between Jeanette and her daughter Fanny; poignantly, their love for each other is tempered by the pressure and claustrophobia typical of many mother-daughter relationships, especially ones in which there are no other family members to mediate.
Some elements of the novel are less convincing. It is unclear, for instance, what the character Evelina contributes to the novel. The trip to San Francisco has been paid for by Fanny as a surprise gift to her mother, though the reader, and Jeanette herself, learn later that what Fanny has actually bought is half a two-person trip (sharing a hotel room with just one bed, neighbouring seats on the same flight, and joint tickets to the conference with Evelina). Did Fanny do this to save money? To provide her mother with company? Why did she not tell Jeanette about this fellow traveller? All these things were unclear to me. Perhaps Evelina functions as a counterpoint to Jeanette's version of working-class Sweden. She too grew up in poverty, but she is younger, outwardly attractive, and has a boldness and a confidence Jeanette lacks. She takes up space in the world in a way that is impossible for Jeanette (and, Jordahl seems to say, for many others from a working-class background). But I found this subplot contrived, and there were other interactions that left me with the same feeling.
All in all, though, Som hundarna i Lafayette Park is a moving, stylish novel. As a portrait of a woman adrift it offers a perspective that is often absent; as a critique of society's blind spots regarding class, its quiet rage has the potential to inform and inspire.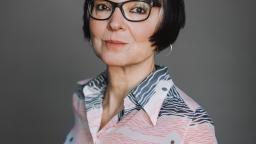 About
Som hundarna i Lafayette Park
Norstedts, 2016
288 pages
Foreign rights: Catherine Mörk, Norstedts Agency
A translated extract from Som hundarna i Lafayette Park is also featured in SBR 2021:2.
Anneli Jordahl is an author and a literary critic. She has written several works of non-fiction, as well as critically acclaimed novels.