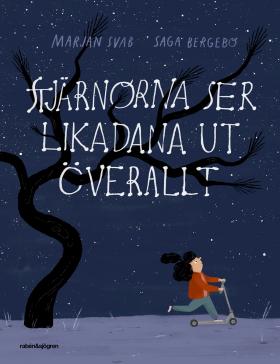 REVIEW
Stjärnorna ser likadana ut överallt
(The Stars Look the Same Everywhere)
by Marjan Svab, illustrated by Saga Bergebo
reviewed by Charlotte Berry
How do you explain the media image of drowned refugee child Alan Kurdi to your own daughter?
This is the challenge which inspired Marjan Svab to write Stjärnorna ser likadana ut överallt. Aimed at younger readers (aged 3-6), this picture book opens in a warzone on the very first page. Boom! Pang! Airstrikes shake Hala's house and neighbourhood as an unnamed conflict divides the country, prompting families to flee. Author Svab and illustrator Bergebo explore this trauma from the perspective of five-year-old Hala, capturing her bewilderment and disorientation as a refugee.
The Stars Look the Same Everywhere takes the young reader along on Hala's confusing journey, from the cellar where her family shelters from the bombs at night to the peace of the countryside where she goes to stay with her grandparents. Here she can play safely outside but tanks are rolling past and her parents arrive to start the journey to a new family life overseas. Travelling by car, lorry, boat, walking, and on foot, they use every kind of transport in their journey across mountains, valleys, oceans and forests. The family live for a while in a tented refugee camp, far from the familiar and fragrant orange groves of home, but they eventually find their way to a forested country with a snowy cold landscape. Their new house is a snug and cosy flat where Hala can sit and draw at the kitchen table and hear her favourite bedtime stories from home about the desert princess and the troll king. She finds a new friend Gabriel in the garden outside where she can play just like at home even without knowing any Swedish yet. The story ends in a bitter-sweet manner with Hala recollecting wistfully the family she has left behind, but making the happy discovery that the stars above look just the same as in her former homeland.
This picture book is Swedish journalist Marjan Svab's fiction debut. Born in 1968 to Yugoslavian parents, he has particular interests in memory, identity, dreams and outsiders. He works in his hometown of Helsingborg as a sports journalist and columnist. He researched refugee testimonies extensively for this story and writes in a beautifully structured and poetic style which works well in exploring this topic with sensitivity and compassion. No attempt is made to explain the bombs, why everyone is afraid of everybody else, or why the father doesn't want to become a soldier and go into battle: it is left to those reading aloud to the young child to tackle these issues in their own way.
Illustrator and graphic artist Saga Bergebo was born in 1987 and graduated from art school in 2015. Based in Stockholm, she has already established a successful career working across digital and print media. She has a huge passion for colour and for storytelling, and the trademark warmth, energy and depth of her illustrations are the ideal choice for a picture book addressing a topic that is potentially frightening for the young reader.
This volume is an ideal companion in topic and audience age to Henrik Wallnäs and Matilda Ruta's Åka buss (On the Bus), featured in the Swedish Book Review in 2016. Both books tell a similar story of escaping conflict to start a new life abroad and illustrator Bergebo uses a similar ribbon-map motif in Stjärnorna to show the length and duration of the refugee route taken, although her use of colour is somewhat more muted and restrained, in alignment with her preferred palette. The use of blues, greys and browns predominate for the airstrikes and the subsequent journey, while the book's more positive scenes are depicted through muted purples and oranges.
The Stars Look the Same Everywhere was nominated in 2018 for Slangbellan, the prize awarded annually by the Swedish Writers' Union for debut authors of children's literature. In 2019, Bergebo's illustrations won the yearly Ung Svensk Form award which promotes young artists to new audiences.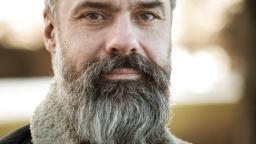 Rabén & Sjögren, 2018
24 pages
Rights: Lillevi Cederin, R&S Agency 
Åka buss (Henrik Wallnäs and Matilda Ruta) was reviewed by Charlotte Berry in SBR 2016:1.