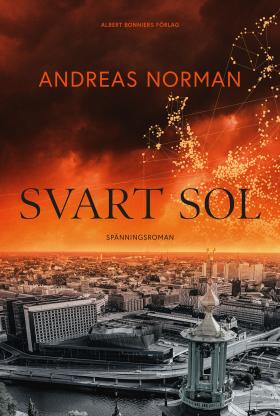 LATEST REVIEW
Svart sol
(Black Sun)
by Andreas Norman
reviewed by Ian Giles
Andreas Norman returns for a third and final outing in his 'Veritas' series focused on Swedish Security Service officer Bente Jensen, offering readers an apt reminder of why his debut novel, En rasande eld (2013), was shortlisted for the 2015 International Dagger. Like the 2013 Snowden-Wikileaks novel that launched Norman's thriller-writing career, this too is sizzlingly topical. Set in Stockholm in the early days of the 2020 pandemic, it explores the very real issues of right-wing extremism, the white supremacist movement and the increasing polarisation of society in both Sweden and Europe as a whole. Little wonder that the title was selected by Dagens Nyheter as its summer serial – appearing in 57 instalments over July and August. Svart sol is superb, getting right just about everything a reader wants in this kind of thriller.
Following the events of Norman's previous novel, De otrogna (2017), Bente Jensen has returned to Stockholm from her posting in Brussels to take up a role in Säpo's Counter-Subversion Department, where she and her team are attempting to infiltrate a group of white supremacists who are plotting a major operation. Gustav Kempell, another returning character, has moved from his long-term role in Counter-Espionage and is now director of personnel. In her personal life, Jensen is newly divorced at forty-eight and unsure what lies ahead of her in life. Encouraged by a friend to try Tinder, she quickly matches with a man whom she dimly remembers from her high school days, and a romance blossoms. In the meantime, work continues to try and identify what the planned operation involves, and who some of the key figures are – with a particular emphasis on a web forum user called whiteboy.
The novel picks up pace when an agent embedded in far-right circles is found dead, his cover blown, and an execution video is posted online. It quickly becomes apparent that Jensen's match with her old high school acquaintance was no coincidence, and she is inserted into the white supremacist movement under cover to continue the work of the dead agent. She enters a world where old money, twenty-first century PR storytelling narratives, and far-right, anti-immigrant views mingle in a Stockholm setting that is otherwise familiar to the reader. Through dogged intelligence work, Jensen discovers the true identity of whiteboy, and in a dramatic sequence revealing that British intelligence has been secretly involved all along, the target of a looming terrorist attack is identified. Yet Jensen is sectioned to a secure facility after encountering police and telling them she has to stop a terrorist attack – she is assumed to be psychotic. Following the timely intervention of Kempell (who has believed the true culprits to be the Russians, rather than right-wing extremists on the domestic front), Jensen is sprung and is able to save the day in the nick of time.
Svart sol is an excellent representative of this genre of reality-based thriller. There are no Bond-esque gadgets or mad villains – instead, there is an unnervingly real threat posed to everyday society and the good guys are left to combat it through desk-based analysis and old-fashioned legwork. Setting the novel during the pandemic might be regarded as bold, but Norman pulls it off with aplomb – leaving the non-Swedish reader with the eerie feeling that the events it describes might actually have occurred and simply been missed in the deluge of other 2020 headlines. Norman has always written well about what he knows, but I sense in Svart sol that he has really found his literary stride. This title will surely have no difficulties in succeeding when exported, but for those with Swedish I would recommend reading it now.
Albert Bonniers förlag, 2021
409 pages
Foreign rights: Lena Stjernström, Grand Agency
Andreas Norman made his literary debut in 1996 with a poetry collection. Having spent a number of years working in the Swedish diplomatic corps, he became a full-time writer following the publication of his debut novel. En rasande eld, reviewed in SBR 2013:1, was published in English translation as Into A Raging Blaze by Quercus (tr. Ian Giles), and was shortlisted for CWA International Dagger 2015. De otrogna, the second novel in the series, was published in English translation as The Silent War by riverrun (tr. Ian Giles) in 2019.