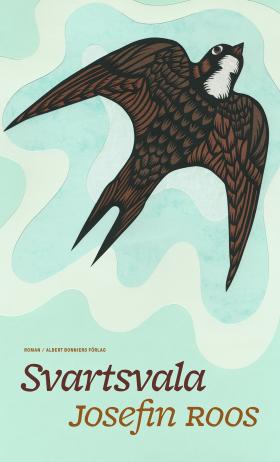 REVIEW
Svartsvala
(Black Swallow)
by Josefin Roos
reviewed by Hannah Charlton
'Birds of passage depart from the darkness in the autumn: they do this despite their numerous optic nerves and the density of photoreceptors on the retina, despite an extra set of muscles in the eyes that no other animal has, enabling them to see colours that the rest of us cannot see. In spite of this, they leave the darkness and do not wait for the light to return, like everyone else. J and I have become dependent on each other, we meet up all the time. Words like soon, then, in a while, in a week, a year or a decade, are meaningless. There is darkness and light, that's all.'
Lucia is 26 when she has a brain haemorrhage and is left with an impaired capacity to remember anything short-term. In reality, this means her brain is no longer able to retain new information and create new memories. She has to learn to live and survive in a completely different relationship with time – a nonlinear experience that is unnerving but also, as Lucia discovers, oddly liberating.
This is a powerful novel that explores the terrain of brain damage, a complex and bewildering state for an individual. It draws on the real-life experience of the writer, who also suffered a stroke at 26. In Black Swallow, the central character Lucia is a young woman who must learn to navigate her way through a future with no real sense of how her life is constructed. She must now live in an altered state, hovering endlessly in the present, able to remember her long-term past but not sure of what she did yesterday, what she said an hour ago, or if she has taken a coat and hat out into the cold of the winter. She ruminates constantly on her condition, on what it means to live with the threat of another random stroke, on not knowing what living really means. Her notebooks become a source of her later acceptance.
She turns obsessively to birds, their behaviours and especially their migratory patterns as they follow internal impulses and repeat the seasonal journey. Swallows and swifts spend their time in the air, defying gravity, and they become her imaginary route to a sense of self – always in an altered state outside of time.
This south-to-north passage also has resonance for her as the daughter of a Chilean refugee who came north and joined the strong Chilean community in Sweden. Lucia goes home from hospital where her mother and 'the man I call Dad', another Chilean refugee, take charge of her broken self and help her through the first months of discovering how to live as 'other'. She learns how to function, albeit in a highly impulsive and haphazard manner, meets A [later revealed as August] and forms a close bond. They become a couple, with A literally holding her daily life together, texting her reminders, leaving notes, and showing endless patience and support for her mercurial and spontaneous existence. Despite warnings from the doctor, they have a child, and life assumes a routine with a job in an archive – an ironic nod to the fact that she is organising memories although she lacks her own.
It is now that she meets J, randomly, in a shopping mall. They have coffee, she is instantly drawn to him and discovers that he is also Chilean, and they speak a mix of Spanish and Swedish that is an indication of their shared sense of identity (the Spanish is extensive enough to feel real, but easy enough for the reader to sense the emotional content). Their mutual passion is an addictive part of their lives, as they both enter into an affair, grabbing half-hour meetings on the bus, in his car, in the snow. For Lucia, this becomes a central part of her existence, with the sensory, physical emotions taking over her entire sense of being.
Slowly another cycle begins to build, one of discovery, of an extreme sense of urgent physical desire, followed by resistance to the damage the affair will do to their family life, then a period of painful, obsessed abstention, then rediscovery. Lucia and J go through this cycle many times, but it is only late on in the book that it becomes horribly clear. With A declaring he can no longer sustain their home life, Lucia herself realises that the relationship with J has gone on and on in this cycle of knowing and forgetting. 'I stop longing for my memory', she says, and turns back to her daughter and the heavily committed A – though the obsession with J never leaves her.
This is not always a comfortable read: there is a constant tension about how Lucia survives each day without endangering herself or her daughter. The novel stands out as a remarkable meditation on being 'other', on living with an invisible disability and surviving with a knowledge of obsessive and enduring love.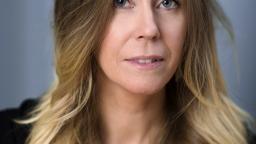 Bonniers, 2020
200 pages
At 26, Josefin Roos lived in London and had a brain haemorrhage. She is the author of four novels and two children's books.