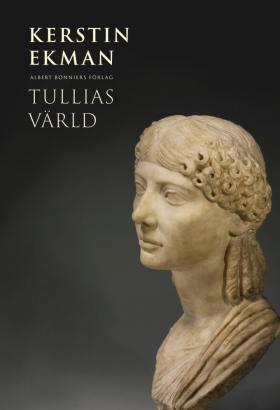 LATEST REVIEW
Tullias värld
(Tullia's World)
by Kerstin Ekman
reviewed by Sarah Death
Who was Tullia? According to her father Cicero, she was the most loving, demure and wise daughter anyone could wish for. But as Kerstin Ekman pointedly remarks in this beautiful if unsettling work, Cicero found it hard ever to see beyond his own person, and at one point in his correspondence he describes Tullia as the very image of himself, in her looks, feelings and conversation.
In Tullia's World, although acutely aware that we only know of these women through male voices, Ekman sets out with grace, inventiveness and often anger to shed light on hidden lives. We can only truly discover the women of Ancient Rome, she tells us, when they belatedly start to write for the public arena, not just for themselves on wax tablets all too easily erased. Ekman pieces together the bare facts of Tullia's universe by trawling through Cicero's correspondence, and then elaborates on them with imaginative passages. She repeatedly makes her case for writers' skilful deployment of the imagination, and creates entirely plausible dialogues between Tullia and other women, from secret-sharing slave girls to the knowing matrons for whom outward dignity and propriety are everything. Ekman vividly evokes the contrast between the constraints and the luxury of this young woman's life, and brings the scene alive through the sights, sounds and smells that would have been part of Tullia's experience. They range from Terentia's pungent beauty lotions and the fragrance of gardens to the stenches of the slaughter during the many animal sacrifices at the altars of the gods, a blood-letting followed incongruously by the smell of roasting meat.
Ekman gives us a lively Tullia who is curious, keen to learn, and even teaches her slave to do basic writing. She is given a classical education, but has to glean her information about menstruation, pregnancy, childbirth and the wiles of men from a loose sisterhood: her mother Terentia, her peers; and slave girls bringing gossip from the marketplace. She is caught in the vice-like grip of patriarchal society; as a young wife, for example, she is obliged to heed a summons to visit her father several jolting days' journey away by carriage, even though she is very pregnant and the trip sends her into premature labour.
This is a world in which women's most important function is to procreate, and they know it. They are preoccupied with prayers and offerings to Juno, goddess of marriage and family.  They know they live in a dog-eats-dog world where divorce is the frequent and inevitable outcome if either party does not live up to expectations. It is a world, Ekman explains, in which newborns are non-people for the first weeks of their lives and thrown on the rubbish heap if they are imperfect or fail to thrive. A world in which boy babies are put into their father's arms to be welcomed, while girl babies are laid at their feet.  Boys were given their own names, but girls took the names of their fathers. Thus, Tullia is named for her father, Marcus Tullius Cicero.
Ekman does not confine herself to Tullia's life alone but also touches on those of many other women whose fates can only be glimpsed in the traditional sources. There is an inevitable scrappy patchwork of presentation when trying to resurrect these figures about whom so little is known, but Ekman finds a way of paying tribute to them all: her chapters are divided into sections, and each one has as its heading a list of every woman mentioned in it, real or mythological.  So we find, for example, LEDA DANAË SILVIA EUROPA and TULLIA SERVILIA POMPONIA SEMPRONIA. The overall effect is of a roll of honour.
Authors' versions of the classics are popular with readers and, like Ekman's, each is very much a reflection of its author's own style. In Robert Harris's commercial success Imperium, for example, Tullia is just a little girl, hoisted high on paternal shoulders as a crowd-pleaser at the morning household scrum of Romans seeking his protagonist Cicero's help.  Meanwhile Natalie Haynes, stand-up comedian and serious classics scholar, has produced a series of books such as A Thousand Ships and Pandora's Jar and is engaged in a passionate and witty fictional reclaiming of the Greek myths from male-dominated narratives. Pat Barker's retelling of Homer, The Silence of the Girls, is another case in point.
Ekman, ever the champion of the voiceless women, also thinks it important in this book to identify with her fellow writers of the classical era, who happened to be male and whose works she has studied in such detail.  In her telling, writers are very much 'us', a fellowship to whom she assigns not only the work of the imagination but also some other crucial duties. First among these in her view is depicting nature, in all its complexity and ambiguity, before we forget what has been lost. Ekman deplores the Romans' desecration of the countryside to mine marble for villas, send farmers away to war and strip fields of grain to feed armies and cities. She sees a clear line running from what they began, right through to the looming environmental catastrophe of today.  The rape of nature mirrors other acts of barbarism committed by the Roman Empire.
A strong environmental message permeates the book, and it is front and centre in Ekman's final chapter 'The Little Goddess's World', devoted to Flora and her realm. Its 'small is beautiful' philosophy dovetails with what Ekman has shown us of Roman women's operation in the sphere of Lares, Penates and other minor household deities. Ekman finds succour in the centrality of the natural world in writings by Virgil, Horace and Ovid and has a particular soft spot for the elegies of the poet Tibullus and his appreciation of small-scale pleasures, quoting his line: 'If only now at long last I can live contented with my little, and no more be ever vowed to distant marchings'.
For me, this relatively short volume feels full of distilled wisdom and experience. It is subtly autobiographical to its core and has many echoes of Ekman's earlier works. It is a slice of educational and cultural history, too; engaging with Latin at school, the young Kerstin is indifferent to all those military campaigns but discovers pleasure in the depictions of everyday practical things, like setting boats into water. Yet at school and even at university, people of her gender and generation are only allowed access to a bowdlerised version of the classical world.
The author and her designers and picture editors have created a stunningly attractive book. They have combed the archives for images – often mosaics – that are expressive and varied and could so easily be the actual individuals about whom she writes. Stock images of women's faces were a standard element of the mosaic makers' business, Ekman tells us, but the pictures chosen here provide a wonderful antidote, from a quizzical young girl via a feisty-looking woman armed with stylus and tablet to a group of vocal, self-indulgent Pompeiian matrons.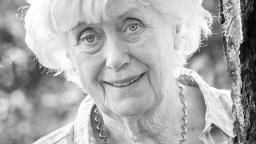 Albert Bonniers förlag, 2020
190 pages  
Foreign rights: Eleonoora Kirk, Bonnier Rights
Read an extract from Tullias värld in SBR 2021:1.
Kerstin Ekman remains among the most prominent living Swedish authors, and a number of extracts from and reviews of her works have appeared in SBR.