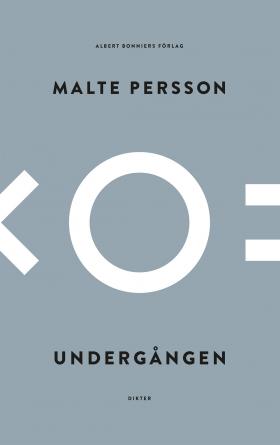 LATEST REVIEW
Undergången
(Annihilation)
by Malte Persson
reviewed by Bradley Harmon
'Why write love poetry in a burning world?
To train myself, in the midst of a burning world,
to offer poems of love to a burning world.'
These three lines close out American poet Katie Farris's poem which takes its title from the above question. Indeed, many people may question the prospect of art in an age of mass extinction, wide-scale environmental degradation and numerous other affronts to the human condition. Thus, the very idea of stopping to write or read poetry amidst such existential despair can seem foolish. Why turn inwards towards the examined life instead of mobilizing outwards and 'making a difference'? This perceived imperative to make a difference is, of course, felt by many people. Clearly, many of the existential threats facing humanity lie at the feet of the affluent nations and in the hands of their wealthiest members. But the majority of people worldwide have no choice but to go on living as best they can. We are still in the world, even if it is burning. We still live. In his latest collection, Undergången, Malte Persson tackles these existential dilemmas head on. With a dedication to a number of traditional poetic forms and inspiration from German and British letters, mythology, and a range of current events, Persson attempts to give rhyme and reason to an otherwise chaotic state of being.
The tone of Persson's collection can be gleaned from the second two of four prologue poems: what are we to make of our time left on this earth and in this world, in an epoch of uncertain futures and precarious presents?
Döden som till livet gränsande:
ett främmande bestämmande.
Men också livet var begränsande,
och också hemmet hämmande.
De få och fadda sinnena
migrerande till minnena
hos de beslutna efterkommande.
I livet är vi ensamkommande.
Och sedan ensamt gående,
förståndigt oförstående,
försvinnande försvinnare.
Förlorande som vinnare.

Death bordering on life:
exerting an alien control.
But life itself imposed its limits,
and the home inhibited.
The few, dulled sensations
migrating into memories
of staunch posterity.
We are alone in life as we arrive
and move onwards, still alone
sensible and ever baffled
fading then vanishing
losing even as we win.
The reader of Swedish will notice the formal elements of the poems: the rhyme scheme aligned with the present participle, the word-initial alliteration, and repetition of the prefix för- denoting a transformation. While these formal dimensions do not carry over into the English, the semantic dimensions do. Through the repetition of the continuous -ing combined with the frequent verbs signaling motion or change as well as cessation, the temporal tension is established. The human condition is characterized by a dialectic of 1) things in constant transformation, evolution, development and 2) obstructions to this progress. Yet the poem that follows the above clarifies that the time scale is beyond the comprehension of human consciousness.
Klockan fram-
och urvriden:

djuren sam
ur urtiden.

Urtiden långsamt
framskriden;

framtid långt bort
framliden.

Clock-time has moved forward
and been wrung out:

the animals emerged
out of primordial time.

But that primordial time slowly
advances;

the distant future
is passing away.
If the previous poem addresses the ever-changing nature of the human condition, then the second one zooms out beyond the scale of human time, to the point of geological Deep Time, which existed long before Homo sapiens emerged and will continue long after we have become extinct.
These four poems are followed by three mythologically inspired suites aptly titled 'Gudarna (1)', 'Gudarna (2)', and 'Gudarna (3)' [The Gods…], each with their own epigraphs by Schiller, Shelley, and Spenser, respectively. The Schiller quote – 'Was unsterblich im Gesang soll leben, / Muß im Leben untergehn.' [What is to live immortally in song, / must perish in life] – gestures both to the lines by Farris quoted above and to another implicit red thread running through the books: Rilke's Sonnets to Orpheus. While Rilke is never mentioned by name (Orpheus is), the inspiration is clear. In the classical tradition, Orpheus, the famed god of song and poetry and the son of a Muse (likely Calliope, the patron of epic poetry) descended into the underworld to resurrect his wife Eurydice. Famously, he would only be able to bring her back to life if he did not look at her until they reached the upper world. As the myth goes, he looked too soon, and she was then lost forever. Orpheus met his own fate by being ripped apart in a Bacchic sparagmos.
Of the many lessons that can be gleaned from the Orphic tradition, perhaps the most salient here is the inability to refrain from looking back, from making a grave error, whether knowingly or unintentionally. Persson's interlocution with the giants and gods throughout western civilization and beyond alternately gestures to the durability of these canonical figures and the cliché tendency of history, or rather humans, to repeat. Clichés exist precisely because there is a predictable truth to them. What are we to do in the face of a predictable end, a final fulfillment of the death drive?
The back half of the collection is the 60-page poem 'Världen alltmer hastigt bakåtspolad' [The World Evermore Rapidly Rewound], which begins with the imploration
Låt 2020 års rubriker
försvinna in i journalisters fingrar
när det globala bandet hastigt backar;

Let the headlines of 2020
disappear into the fingers of journalists
when the global tape rapidly rewinds;
Through the poeticizing of a kaleidoscope of contemporary buzzwords representing the condition of the late capitalism of the 21st century and its origins in global history, the poem unfolds in ebbs and flows, on both a small and a large scale. From Bitcoin to Jeff Bezos, disinformation to herd immunity, Pompeian society to media algorithms, Joan of Arc to terrorist attacks, an array of associations winds up and down, until it stops, reaching the point described below.
den punkt där tiden slutar äga rum,
den stund där rummet slutar ta sig tid,
och allt som återstår är möjlighet.

that point where time ceases to take place,
that moment where space ceases to take time,
and all that remains is possibility.
What the reader is left with is dissonance, a potentiality that somehow exists despite the absence of the fundamental conditions of space and time. The world, if not the universe itself, has completely disintegrated into the ether, into the negative, but the potential for another Big Bang, for a new universe, for an entirely new, distinct, and unfathomable beginning remains.
Yet the reader also remains after the book ends and is left with the question: now what? A recurrent theme of the collection provides an answer, as cited here from the poem 'Efter ännu ett terrordåd' [After Another Act of Terror]:
Det som nu gäller är att fortsätta.
Att ta ett kliv och inte titta ner.
Att fortsätta, det är det enda rätta.

What matters is to keep going.
To take a step and not look down.
To keep going, that is the only right thing to do.
Despite the downfalls of the human condition that permeate the collection, the human capacity for perseverance, even resilience, holds strong. Recalling Farris's poem, if the world is burning at the hands of humans, the poet writes to offer love to the world, and to those who must continue to dwell in it. There are those who have already perished, those who are still living, and, perhaps, those who may be born in the future. The poem reprises this in its final stanza:
De dödas språk kan ingen översätta.
De levande är svaga. Vad som än sker
Är det som gäller dock: att fortsätta.
Att fortsätta, det är det enda rätta.

No one can translate the language of the dead.
The living are weak. Whatever happens
This is still what matters: to keep going.
To keep going, that is the only way.
Undergången received critical acclaim in Sweden, having become a fixture high up on critics' lists upon its release. It was hailed as 'an indisputable and highly unusual masterpiece' (Sydsvenskan) with 'a rare entropy' (Aftonbladet) and an ending that is 'nothing other than sublime' (Expressen). While nature poetry has proliferated into a variety of other labels such as ecopoetry and Anthropocene poetry, what sets Persson's book apart is its grand scope, grounded in today's problems but panning in and out to encompass the entire scope of the human condition and the times that precede and will follow it. Though this is still somehow a book to be read and enjoyed, the reader will close it with thoughts abounding. To end with a quotation from Jesper Olsson's review in Svenska Dagbladet: 'There is much more to be said about Undergången than a review allows. And it is to be read now, never then. Do it.' For tomorrow it may be too late.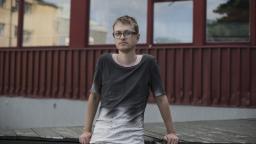 Albert Bonniers Förlag, 2021
176 pages
Foreign rights: Mathilde Coffy, Bonnier Rights
Malte Persson was born in 1976 and lives in Berlin. The author of books including Livet på den här planeten (2002), Underjorden (2011), and Till dikten (2018), he has also translated a volume of selected poems by Rainer Maria Rilke, Valda dikter (2020). His many awards include the Swedish Academy's Gerard Bonnier Stipendium, the Göteborgs-Posten Literature Prize, the Karin Boye Literature Prize, the Tegnér Literary Prize and the Samfundet De Nio Translation prize. He is also a literary and cultural critic.