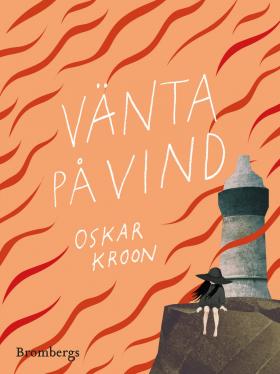 REVIEW
Vänta på vind
(Waiting for the Wind)
by Oskar Kroon
reviewed by Henry Jeppesen

Oskar Kroon is quickly becoming a tour de force in Swedish children's literature. In addition to writing books, he has also qualified in journalism, and, of all things, baking. In his novel-writing career, which started in 2018, he has so far cooked up (sorry – I couldn't resist the pun) five books and contributed to one more. In Vänta på vind, which won the 2019 August Prize for Sweden's best children's book of the year, he deals with many themes, including a few that a lot of 9-12-year-old children (the target readership for this novel) might have first-hand experience of. These include death, which is a recurring theme in some of his other works - some children lose grandparents at this age, and it can seem like the end of the world, especially if you are particularly close to them – as well as topics such as fractured relationships between parents and not fitting in at school.
Everything in Vinga's life on the Swedish mainland is falling apart. She is a teenage girl whose parents have split up, and who is about to start a new school in the autumn. However, she has one solace: she is spending the summer holiday on a small, idyllic and windswept island off the west coast of Sweden with her grandad, an old sea dog, who has travelled the world and who Vinga wishes to emulate. She has a great relationship with him, and he calls her 'captain'. He has also given her a small boat, and throughout the summer they make it seaworthy in preparation for its maiden voyage. One day, she meets another young girl, Ruth, who hates the sea, and who isn't too keen on the island either, but has no choice but to stay there as she has to help her granny, the proprietress of the shop in the only village on the island. Slowly, but surely, Vinga forms a friendship with Ruth. The friendship has one blip: when Ruth finds a dead porpoise on the beach, but Vinga gets the plaudits from the local and national media who think that she found the dead animal. Yet they soon become friends again, and in the end, they share a couple of kisses and promise to stay in touch. Eventually, towards the end of the summer - shortly after Vinga's step-mum has given birth to a baby boy - Vinga's grandad dies, and she is understandably devastated.
However, a few weeks before this, her grandad rightly predicts that a storm is a-comin', happily takes the wheel of the small passenger ferry on which they are travelling from its seasick captain and steers it back to the mainland, with Vinga as his faithful assistant. You can be sure that the old man is chuckling about this to himself in the afterlife.
In case you're wondering, the phrase 'waiting for the wind' appears in the novel when it is uttered by Vinga's grandad on the first voyage of Vinga's boat (and when there is no wind!). Incidentally, Ruth helps Vinga's grandad finish work on the boat while she is still on the mainland (he returns to the island before she does).
I would definitely be interested in reading more of Kroon's work, even though I am slightly older than the target audience of Vänta på vind and his other creations (I'm 47!). The book, I'm certain, like the author, has a bright future in the English-speaking world. The language used is easy to understand, and the subject matter is adventurous (e.g. death and same-sex relationships) yet at the same time not too difficult for its intended readers to digest. As for his future work, I'm sure many more awards await, Oskar!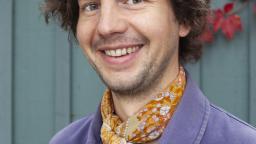 Brombergs bokförlag, 2019
205 pages
Foreign rights: Carin Bacho Carniani, Koja Agency
Oskar Kroon made his debut as a children's writer in 2018 with Mitt fönster mot rymden (My Window to Space). Vänta på vind (Waiting for the Wind) won the 2019 August Prize for Sweden's best children's book of the year. Överallt och ingenstans (Everywhere and Nowhere)  was reviewed by Fiona Graham in SBR 2021:1.