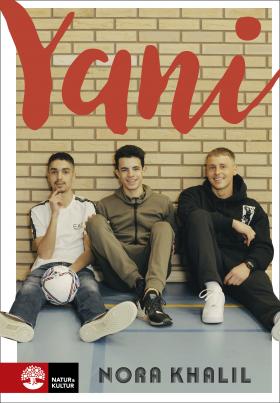 by Nora Khalil
reviewed by Catherine Venner


Yani starts with a bombshell: Amir, one of narrator Rayan's best friends, receives a message from the Swedish immigration authority informing him that he will be deported to Iraq. Told from the point of view of Rayan, this YA novel sets a different tone because it documents how Amir's friends deal with his imminent deportation rather than what Amir himself goes through.
Rayan, their other friends and their youth club leader decide that they will oppose Amir's deportation.
They start a social media campaign in which they want to show Amir doing typically Swedish things, such as a sailing trip with a borrowed boat and their class trip to a ski slope, the description of which shows the humour and keen eye of the author. They also start a letter writing campaign, collect thousands of signatures in a petition and try to get famous people involved. The boys keep brainstorming ideas, but Amir draws the line at pretending to be gay in order to stay in Sweden. Yani is a book set in the real world and in the end the friends are unable to change the immigration authority's decision. The final chapters of the book see Amir keeping in touch with his friends using the patchy internet in Iraq.
Rayan's mother died in a hit-and-run accident when he was a child, and he now lives with his father. They have frequent visits from his older sister, who is training to be a nurse. He struggles with the thought of Amir being deported as it reminds him of losing his mother. Due to his experience of grief he is able to support Wahida, the smartest girl in his class, when her brother is shot and killed on the street. The pair have been friends since early childhood, but over the course of the novel they grow closer and romance appears to be on the horizon.
At the age of 15 and 16, the friends and their whole class are preparing to leave their school and move on to either practical education or preparation for university. While they are all looking forward to an end-of-school trip and their leavers' ball, an air of uncertainty hangs over the group that is not entirely due to Amir's imminent deportation. The teenagers are at a changing point in their lives and are about to make the leap into adulthood. There is a very touching moment in the book when the class decides that the money they raised for their end-of-school trip, which was to be abroad, should be used to go to an amusement park in Stockholm because that is where Amir wants to go and he wouldn't be able to join them abroad.
Told through the adolescent eyes of Rayan, Yani touches upon other important social topics, such as racism, violence and society's approach to ending it, friendship, belonging, feminism, grief and sense of community. As in life, these serious matters are interspersed with lighter moments, such as when the friends struggle to buy a vegan birthday cake for their teacher. Their everyday life, their joys and their hardships in a Stockholm suburb, where most families have an immigration background, is sensitively captured through the eyes of the teenage protagonists.
The eponymous 'Yani' is an Arabic word that roughly translates as 'you know what I mean.' It and other similar words and slang are used throughout the book to excellent effect. Nora Khalil drops just the right amount of dialect for the characters to feel real but without making it inaccessible for readers unfamiliar with this way of speaking.
Yani has been well received in Sweden and was nominated for the 2022 August Prize in the children and YA category. It received praise in reviews by national newspapers Aftonbladet and Dagens Nyheter. Nora Khalil is a young teacher and a poet; both callings are reflected in this novel through the beautifully sketched characters of the school pupils and her wonderfully accessible yet expressive word choices. Yani was an absolute joy to read and I would highly recommend it as it opens a window on another world within Sweden.
Natur & Kultur, 2022
197 pages
Foreign rights: Koja Agency
Nominated for the 2022 August Prize
Nora Khalil is a teacher and poet. Yani is her literary debut.