LATEST TRANSLATION
from The Young Ones We Kill
by Eija Hetekivi Olsson
Introduced and translated by Sophie Ruthven
The year is 2006, Gothenburg. Smartphones are yet to take off, but mobile phones and online messaging services structure any lives shared with teenagers. For Miira, technology is the bread-and-butter of living with her daughter Nova, who has started meeting up with online friends, some of whom come from a Cosplay forum (a what?). When she starts bringing them to Miira and Nova's small home in the Gothenburg suburbs, she triggers a lot of maternal worries.
And Miira has a lot on her mind, as in this third but stand-alone book in Hetekivi Olsson's trilogy she enters the final term of her degree in Education and, most nerve-rattling of all, the teaching placement. Miira is nervous, as any new teacher would be, but mixed in with this are her own insecurities, which stem from feeling like a fish out of water amongst the other students from wealthier suburbs. Unlike Miira, these students went straight through their schooling and come from fancy families, and yet perhaps have considerably less oomph than Miira does.
Then there is the fact that Nova appears to be being bullied at school, and refuses to let her mum get involved. As their mother-daughter communication becomes increasingly digital, Miira is left speculating about all kinds of worst case scenarios, all whilst facing her own challenges of working out how to teach,  finding support from experienced teachers who can see her clearly, and avoiding some of the more questionable older lecturers, the 'fossils'. And of course ensuring that school is a place where young people grow, not where they wither.
In the following extract, we see Miira's first day of placement, the day after the night before spent blowing the overheated bulb in her reading light while cramming for the big day, and an encounter with a silent and suspicious 'friend' of Nova's in the hallway of her home, who, due to a lack of real introduction, has gained the sartorial moniker Army Jacket. Hetekivi Olsson's sprightly and witty language is rich in simile and metaphor, which colours Miira's struggle up the mountain of education in her 'home-made running shoes', but is also a vehicle for sharp social commentary and a warm rendering of a steadfast mother-daughter bond.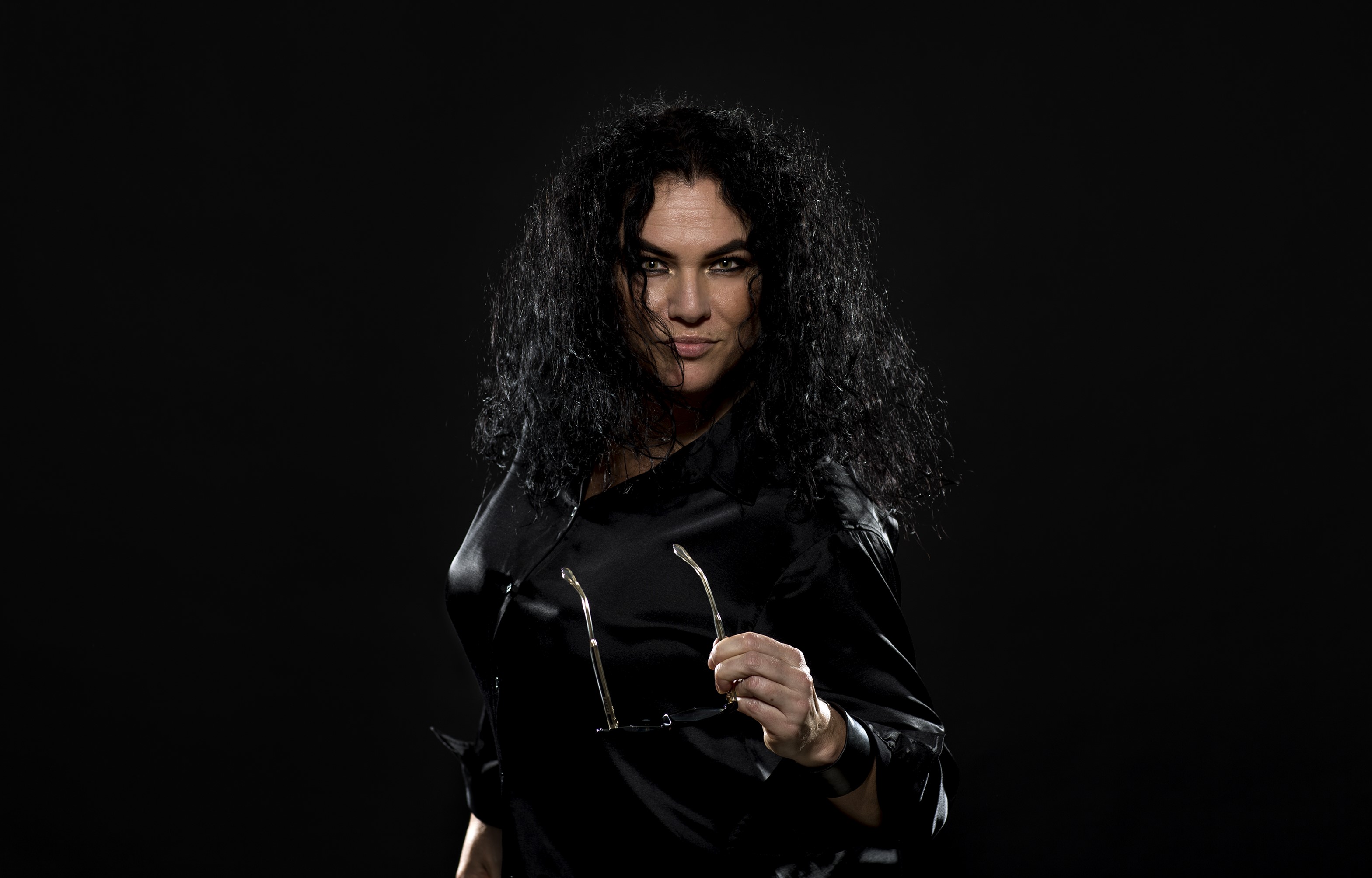 from The Young Ones We Kill
A CLOUD-FACE WHOSE MOUTH was twisted into a scream floated above her.
She was too early for once, had just under an hour before she had to be at the high school where she would be doing her placement, and was sitting behind the nearby square with her legs jittering by a bush. Peebush. Didn't need to pee.
After the increasingly hectic previous few days, her brain had taken a time-out from the most desperate stress-desperation. Otherwise it would have blown like the lightbulb had from overheating.
She was to meet several hundred high school students. There was a grumbling in her belly, she'd better not get diarrhoea now. Her hands were soggy.
Nova was in Carola's French class, she'd seen on the timetable on the fridge. How's it going, Chérie?
Hihhihihii, she thumbed silent mode on. >_< Nova was in pain in class but didn't complain.
:/ Shall we do something tonight? Bake a cake? Call ourselves Jake? Play snake?
oui :D
:D <3
Nova would make it through the class, through all the classes, and she didn't have any plans to be with that guy, the Army Jacket, not that evening in any case. Preferably not any evening.
She belly-burble-sighed to herself. Obviously he wasn't a woman-abuser or mass-murderer just because he owned an army jacket. He was undoubtedly a great guy. Grand. And the Screw had of course turned out to be harmless. She could trust Nova's judgement, had to trust it. She'd heard Nova denounce other girls who'd taken shit and dumbed down and objectified themselves to suit guys. And she'd mum-lectured Nova about belittling images of women and the fight for equality, and Nova had agreed with her and steeled herself against others' bullying tactics.
Bosse the Bohemian would be her supervisor during the placement.
In previous placements, which hadn't been as long as this, she hadn't had her own classes, had merely been picking and choosing some speaking and lesson content with Bosse, it'd all been out of context. She'd interrupted and shifted Bosse's lesson plans and test-driven some of their ingredients as well. Bosse had had the primary leadership. Had bohemianed around the room in his floral shirt, blanched and bookish. Had a sense of humour. Drip-fed himself coffee.
And then there was dopey Lisa who she'd also shadowed, who had mislaid her papers and glasses and the students' tests, and was constantly losing her train of thought.
Both were liked by students and had obviously collected a substantial amount of how-to-create-lessons material.
Nerve-soothing.
Besides, she wouldn't have her own classes right away; she would have time to plan rewarding trial lessons. Today she would just be sponging up as much information as possible.
Finally, to stockpile practical professional tools in her toolbox.
No hammers, please. The sledgehammer belonged at home. The rest of the worldly workers' tools tagged along, like her track shoes with the round studs.
The tingling bubbled up as if she had opened a shaken fizz can inside her body. She galvanised herself.
Challenge and deduce, don't reproduce. Ask questions, get the students to ask questions, imagine.
What the Grenade had said and the tree spirit had written. And she had of course snapped up loads more teaching materials as well, she wasn't fumbling around for on-the-contrary-thinking in a vacuum. On the contrary. She had material in her brainspaces, raw material, and the fact that she had been continuously learning how she wouldn't do things as a teacher was costly but also creatively stimulating. She wouldn't commit those same teaching blunders, or subject the students to the same kind of torture lessons. Other kinds, yes, but not the same kind. The essence of it was that, although she knew or felt like she knew less the more she read, she had learnt a great deal more than she had thought.
What? Everything stood still.
Helloo, the internet exists. School books exist. The library exists. Other teachers exist. You don't have to be able to do everything yourself, right?
We exist for an extremely short career-moment. Don't take everything so seriously. You just have to inspire and enrich the students, make them conscious citizens. Change the world.
She guzzled mint lozenges – a trainee with death-breath was doomed – and set off for the high school.
The school consisted of scattered brick and wood buildings, single storey and two storey, all with bevelled black roofs, of which some extended over entrances and walkways and exitways like roof-tile tarpaulins supported by pillars. She walked as if on stilts past the smaller school buildings, the long barrack-like buildings and the assembly hall, which was like a trendy church with its narrow, lathed, A-shaped window gable, raised student stage with spotlights, drumkit and indoorsy tie beams. She pumped up her walk and sauntered in through the main entrance, just as straight-backed as at university but not as brisk. Was exhilarated to see so many energised high school students. This was exactly what she was destined to do. Teacher-create.
The bigger staffroom was somewhere she never wanted to go again. When she was there last, she'd been shocked to hear a smartarse teacher boast about their wisdom and how they knew better than all their colleagues, and two other teachers gossip inconsiderately about a student. A child.
She was let into the smaller staffroom by one of the teaching dames. This was where social scientists like Bosse and Lisa hung out. They had classes now. Bosse was with form ES3, third year humanities programme students, as per his crowded timetable which sat pinned to the noticeboard beside his overflowing desk. He had twenty-five classes a week!
Her heart flipped. Anthologies, books, loose papers, registers and The History of Conservatism had crashed down to the ground. A sheet of pills with two left. What kind of medicine? Ecstasy?
A coffee-stained sheet of paper, SH1201 - Citizenship A. The syllabus. She took a closer look. The student should be able to understand how political, economic, geographical and social conditions have formed and invariably influence our own community and the international community; be able to formulate, understand and reflect upon societal issues from both a historical as well as a future-oriented perspective; be familiar with how opinions and attitudes arise as well as be aware of how values and points of view are formed; have knowledge of democracy's evolution and function… Her armpits were soggy, too. What had she let herself in for?
Is Nova texting with Army Jacket right now? And what are they writing to one another?
A drooping book in the corner. Respect for the Teaching Profession… spine creases and tears. Professionalisation. Deprofessionalisation. The un-professionalised teaching profession… To be assigned tasks for which you do not have the skills is de-qualifying… the teacher's professionalism, in the sense of competence, can be developed if the teacher is given the opportunities and occasions to gather the essential tools needed to fulfill the profession's needs.
No. Fakking. Shit. She put the book back, which drooped more, in the corner of shame.
'Miira!' Bosse in a pink floral cotton shirt. He had grown some golden Afghan-Hound ears, bohemian hair. 'Great that you're here again.' He offloaded himself of his loads of paper teaching materials, which travelled down the bookhill and belly-flopped to the ground. 'Damnit.' Loaded himself up with new loads and pulled out a bookshelf-book; more books came out with it, crashed down.
'Lots to do?' She picked up the remnants after him, The History of Drugs, now THAT book she would have to read for teaching material, and placed them on his bottom-hollowed teacher's chair whilst he faffed around, puffing and palming one of his dog-ears. 'Can I help?'
'Yes, well, Lisa's on sick leave and the temp also called in sick this morning, so you can probably take her technology programme students, they're in their final year and essentially take care of themselves. Here's the register and timetable with the room number, I've got to dash to my next class, see you.'
He left her.
Alone.
With Lisa's desk, which was overflowing more than Bosse's, and in charge of an entire class. TE3, Sebastian, Joel, Johan, Anton, Jacob… sixteen students whose Citizenship class began in… thirty-three minutes! The flip-heart wanted out of her ribcage.
She rooted around in Lisa's handouts more impatiently than ever, looking for didactic stuff like a starved wild boar with many litters of piglets to feed. Saw nothing, damn… She would have to look for the room and improvise, with her intellectual envelopment disorder.
Am I completely insane for wanting to be a teacher? Don't I have any self-preservation left?
Why didn't I train as a dance tutor instead? I could have done the octopus dance at a kindergarten, varied it with the ketchup dance. Or a speech tutor. Mime tutor, no speaking at all.
Why an educationalist, why not a geologist? Be involved with minerals. Paleontologist, professional fossil researcher. Work with fossils at museums, universities and high schools, that's something I definitely have many years of theoretical and practical experience of; for that profession I have all the tools required.
The classroom lay in the furthest barrack building. It was furnished in the outdated lecturing teaching style. An I-am-the-One-who-Drones-and-Decrees-lectern at the front, in front of Listen-and-Obey rows of beige wooden chairs and tables. Uneven rows where three guys who had also arrived early were sitting, one on his own at the back, half-asleep with his chin pressed down on the desk. The walls were barren. But it wasn't shabby here, like at Nova's school, and it didn't smell of long-term medical care. Miira was autumnally bunged-up.
'Who're you?' and 'You a new temp, or?' wondered the guys who as yet weren't half-asleep.
One of the guys got embarrassed and took an elbow from the other.
'You wish.'
She sat her bum down on the table of power. 'My name is Miira and I'm studying to be a teacher. I'm doing my placement here and with you. Great to get to meet you, what're your names?' Her brain activity was in overdrive, and by now her hands were drenched with sweat, but her heart's rhythm had stabilised somewhat. Her heavily drummed-up nervosity partially drained out of her as they were so few and relaxed.
The one who was barely conscious raised his eyelids and yawned 'I'm Tim.'
The embarrassed one shuffled his arms under the table and sucked his lips into his mouth.
'The tomato's called Ronny, 'is mum's a tomato, 'n I'm Anton,' his pal presented them, as a girl came lumbering in. 'Hi, oh, do we have class now? What class do we have? I was gonna just sit here and do my homework, basically, you another temp or what?'
'She's doing teacher training,' Anton answered. 'Bothering with homework, Maja, 's way more interesting with weed.'
'Says him who's got one brain cell left,' said Maja, swinging her highlighted hair.
Don't poor-role-model-smirk; she wrote Miira on the board. Where are the other students? 'We're supposed to be doing Citizenship, and I'm here today because your temp and Lisa are on sick leave…'
'Yeah, Lisa had a heart attack… yes, no, yes… wait, where's… who'm I?' mimicked Anton.
Lisa had had a heart attack. Not from having worked as a high school teacher, surely? Could have been a heart problem.
'Shut the fuck up! Lisa's bloody good and she might die!' Maja turned towards Miira. 'I seriously don't get why you'd want to be a teacher, all the temps we've had have looked like absolute wrecks… yeah, except for the one who was on tranquilisers… how's it goooing?' Also impersonating a teacher.
The guys cracked up.
Miira saw herself from above, smiling wonkily. Heard herself say 'The teaching profession is wonderful,' sounding like Carola, '...stimulating…' wrong word to use around teenagers, '...and incredibly important…' That wasn't her, it was some eighty-year-old Helga who said that.
Identity crisis.
Another guy arrived, he was late and said 'Yo,' looked at the board, 'Miira,' and high-fived his chum. 'Sebastian.' Then capsized down next to Tim.
She also high-fived, old biddies shouldn't do that if they didn't want to make fools of themselves, and straight-smiled the lopsidedness away. 'Welcome, Sebbe.' He returned the smile. 'Where are all the others? Eleven students are missing,' according to the register, which had only one foreign name, Radoncic, and one girl's name, Maja, who'd stuck it out with the technology guys. Fierce.
'No-one thinks we're gonna have class because the temps come and go and sometimes no-one comes, and the teacher we had before Lisa was semi-alcoholic and totally out of it… but he wasn't the one on tranquilisers.' Maja also cracked up at that. 'Yeah, so you know, lots have basically given up…' Essentially take care of themselves.
The class had begun and continued. She hadn't even needed an awake brain for this dilly-dallying.
'Let's go fetch the ones who are at school.' Miira finger-clicked some speed into the five of them. They were so confused by this leadership that they plodded after her without protest.
There was a fresh breeze. Why did no-one, apart from primary school and sports teachers, have classes outside? Why should the students sit isolated and fall asleep indoors? 'Do you know where they could be?' The ones who've dragged themselves to school today. 'Surely you must have other classes?'
'Yeah, but I think some went home and Jakob, Kalle 'n Pierre are basically never here.' Maja, who was two ruler-lengths shorter than her, was skipping so as not to fall behind.
'Tony isn't either, haven't seen him for a hundred years, he's got an F in everything.' Anton stuck a snus up into his gum. Nicotinist. As she had been and wanted to be right now, wanted to be most of the time but resisted.  She was a sober nicotinist who practised abstinence. An abstinist.
'I'd forgotten he existed.' Maja mouth-farted. 'Joel and Micke are probs still having a coffee… and Olof.'
They found Joel and Micke, who were laughing with their gobs pointing up at the ceiling. But not Olof or anyone else. Over half the lesson had gone by. She led them back to the barracks and left the classroom door wide open, it let the air in and there was no life outside, anyway. She couldn't do anything other than chat to them. They didn't have any assignments or school books with them, apart from Maja, whose English homework book lay on the seat.
'So.. what have you read and learnt about citizenship?'
'A bit about democracy, the UN and like something about growth, aaand… how government works, or the Riksdag I mean, and with Lisa we were supposed to have an EU debate but nothing happened about that,' Maja filled her in.
'That the Moderate Party are the new Labour Party,'  said Anton. 'Mum voted for Reinfeldt.'
'What EU debate?' Micke birdhouse-yawned. He was also a snuser, had a bigger bag. 'I voted for Lordi, mum for the social dems and dad for mum.'
'Jeez… that stuff about democracy was like first year and the UN thing I wasn't there for, but there was some temp… err, what the hell was she called, she was sold on Nazism. The one who was banging on about Jews.' Anton kicked Ronny, who answered, 'As if I bloody know.'
'I wasn't there then,' said Tim listlessly and yawned again. 'They've no bloody clue what we've learnt.'
Her interdisciplinary overdrive-head stopped dead, as if she'd driven off the road and collided with a padded wall at a speed of two hundred kilometres an hour. Whiplash. The toolbox crashed through the windscreen and rotated in space, a lone dice was thrown out. 'Erm…  but… you've of course read about other ideologies as well?'
'What's ideology, what does that mean?' asked Maja. Now Anton yawned too. Sparrow nestbox.
'Good question!' As if I bloody know, she thought too. She'd only defined that word in text form and couldn't reproduce it now, in spoken form. She couldn't recall what she'd written about it, even though she'd chewed over ideologies. She felt like an owl's nestbox without an owl. The lesson was over. Her few students left before she thought of asking them to look up the word and define it for next time, when they would have a new temp again. Or to ask their classmates to drag themselves to school. Basically.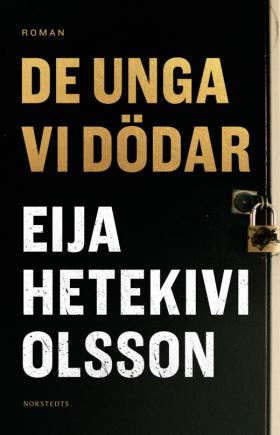 About the book
De unga vi dödar
Norstedts, 2021, 316 pages
Foreign rights: Linda Altrov Berg, Norstedts Agency
We are grateful to the agent and author for permission to publish this translated extract.
A review of De unga vi dödar is also featured in SBR 2021:2.
Eija Hetekivi Olsson debuted in 2012 with the highly praised No Child's Land, which won the Catapult Prize and was nominated for the August Prize that year. This was followed by Miira in 2016. The Young Ones We Kill provides a stand-alone conclusion to the trilogy.
Sophie Ruthven is a translator from Swedish, Norwegian and German, as well as general language lover. Also a ski instructor and artist, she lives in Innsbruck.