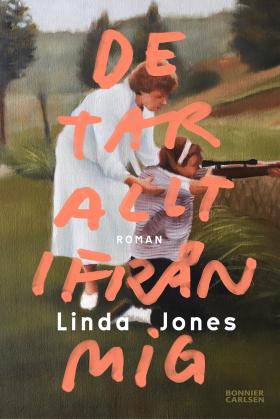 LATEST REVIEW
De tar allt ifrån mig
(They're Taking Everything Away from Me)
by Linda Jones
reviewed by Mia Österlund


Literary explorations of Northern Sweden, which is a sparsely populated and highly contested area, have lately become increasingly frequent. Fifteen-year-old narrator Frida in Linda Jones's young adult novel De tar allt ifrån mig (They're Taking Everything Away from Me), is a case in point. Her language is harsh, highly realistic and bursting with dirty details: readers can smell the blood on the hunters' boots, feel the recoil of each gunshot, sense the long hours waiting in the woods and the roughness of skin cracked by the cold. The novel's opening line instantly captures Frida's living conditions as her mother instructs her how to use a gun: 'Think of someone you hate. Then shoot.'
North Bothnia is a broad landscape characterised by unemployment, long distances, badly maintained roads, unstable mobile coverage and few signs of the welfare state. Yet, when the Swedish authorities discover a hybrid animal called 'korsningen' (The crossbreed) in the area, they quickly install surveillance cameras and cancel the annual autumn hunt, thereby triggering a spiral of secrecy and violence in the small, fictional village 'Marken' (The Ground). Vibrating with the villagers' anger and protest, the novel unfolds beautifully around the mysterious hybrid creature, which adds a supernatural layer to this intensely narrated and shimmering tale of a small community simultaneously controlled and abandoned by the welfare state. What happens when an armed group of villagers starts rewriting the rules?
Frida wants to be like her mother, who is a hunter and skilled survivor, but has to find her own set of values and way forward. When Frej, a boy wearing black nail polish, moves to the village and becomes Frida's friend, she is forced to  not only deal with the strange creature in the woods,  but also to renegotiate the rigid hierarchy of her hunting team, as well as the power structures and values among her peers at school. Both are equally at a tipping point and Frida has to choose whether or not to stand up for her values and her friendship with Frej, who represents a masculinity different from the hunting teams. On a symbolic level the hybrid creature captures Frida's sensibility and longing for something more; the confrontations with the animal add to the forest mystique and the sense of the metaphysics of life. The novel also taps right into rape narratives and #metoo novels in a delicate and thought-provoking way.
Linda Jones's debut novel for young adults Bete sig (2019), which portrays a conflict between urban life and living in the harsh wilderness of the North, was awarded the Norrland Literature Prize in 2020. It tells the story of Stina, who deals with her parents' divorce by moving into a remote and ascetic cottage in the woods, where she has to survive on her own and exist outside of social media. Jones's second young adult novel De tar allt ifrån mig has, in turn, been compared to Kerstin Ekman's masterpiece Löpa varg (The Wolf Run, 2021 – an extract translated by Linda Schenck appeared in SBR 2022:1). Both novels thematize hunters and hunting and are equally beautifully written.
Highlighting both teen and adult life set in the northern inlands, De tar allt ifrån mig is mandatory reading also for an adult audience. Jones's novels insightfully delve into dark psychological and symbolic terrain. There is nothing nostalgic or idyllic about her writing. Instead, her intense depictions of a here and now raise crucial questions about who we are and what we want to be. What possibilities and responsibilities do we as individuals have to speak up and to act in order to defend humanitarian values and ensure that our society – albeit at the very margins – will survive?  Jones's masterfully written and intensely suspenseful novel De tar allt ifrån mig is, in this very respect, no less than ground-breaking.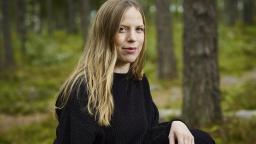 About
De tar allt ifrån mig
Bonnier Carlsen, 2023.
320 pages.
Foreign rights: Ragnhild Glimregn, Bonnier Carlsson.
Linda Jones is a journalist and writer based in Luleå. Her debut novel Bete sig was awarded the 2020 Norrland Literature Prize. De tar allt ifrån mig is her second novel.