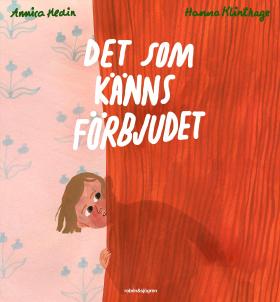 LATEST REVIEW
Det som känns förbjudet
(Things That Feel Naughty)
by Annica Hedin
illustrations by Hanna Klinthage
reviewed by Charlotte Berry


'There are things we do in secret, which we hope others won't notice. It would be embarrassing if they saw. Would they laugh at us? Or get angry?'
This attractively presented and thought provoking picture book, Things That Feel Naughty is 2022's offering from one of Sweden's leading children's publishers. The award-winning author-illustrator duo of Annica Hedin and Hanna Klinthage creatively explores a range of behaviours which could potentially be embarrassing or shameful for very young children beginning to make their way in an often confusing world.
'We still do them anyway, we just can't help it!'
The remainder of the book is divided up into themed double-page illustrations, covering a huge range of potentially problematic decisions and behaviours - 'Telling lies', 'Spying and snooping', 'Being jealous', 'Being furtive/doing something on the sly', 'Fidgeting', 'Stealing', 'Running away', 'Swearing' and 'Cheating'. Each theme is clearly labelled in the top-left hand corner with a few words of description and explanation. The rest of the double-page space is given over to different illustrations for different scenarios within that particular behaviour. This clever methodology shows children (and some adults) faced with variants of the spotlighted ethical dilemma, with their inner thoughts laid out in the first person as they mull over their situation and think through their next options.
'It's not lying to say I'm getting a dog. For I will do. When I am grown up'

'I'm so good at snooping, I think I'll be a detective when I am grown up'

'I know I should be happy when my sister gets a lovely present. But I want to cry. She got exactly what I wanted'

'I did decide to give up smoking, just after I've finished this last cigarette'

'Grandma, you can't say "Shit!"'
The final illustrations look at behaviours which are potentially embarrassing, such as playing with Barbie when you are aged eleven or going swimming naked. And the book closes with some welcome reassurance:
'Now you know, it's not just you… We know we shouldn't, but we do it anyway. Why? Because we are not robots, but people. And that's why we act like this.'
This fresh approach of unpacking some complex human behaviours works very successfully. The style of illustration is simple and understated, using a slightly muted palette of colours but nevertheless creating sumptuous textures and depth. Each page has lots of detail to locate and unpack, but in small bite-sized chunks which are not too wordy or weighty. The chosen examples are taken from typical dilemmas which small children would meet for the first time, and from adult life too. The child's experience is not taken in isolation but as part of a wider picture. The written tone is not patronising but is instead well considered and pitched, presenting common ethical scenarios that small children as well as fully-grown adults will recognize.
This book is the third co-creation by author-illustrator duo Hedin and Klinthage who are becoming increasingly favourably regarded by the Swedish literary scene. This title won glowing reviews from Sydsvenskan ('An excellent picture book provoking much laughter and conversation'). Hedin and Klinthage won the Hellsing Prize in June 2022, shortly after the publication of this work. Their work really deserves to find a wider audience in the English-speaking world.
Hedin is a well-established author with R&S and has published 9 other titles, including two other picture books with Klinthage (Dom som kallas vuxna, 2019, and Det som verkar farligt, 2020). She initially worked as an author of school textbooks before debuting as a children's author in 2018 with the acclaimed picture book Stig illustrated by Per Gustavsson, with whom Hedin has also produced the popular Berit series. She published Fluff with R&S and Erik Svetoft this year. Hedin's works have also been translated into Danish, Norwegian, Spanish, Chinese and Catalan.
Klinthage trained as an illustrator and graphic designer, including a foundation year in illustration at Kingston University, London. She now focuses on children's books and animation, publishing her first title in 2017. Her most recent publications are Vitsippor och pissråttor with Oskar Kroon (R&S 2023) and Groda glasstrut pinne with Ia Isaksson (R&S 2023). Her work has been published in Spanish.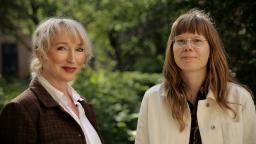 About
Det som känns förbjudet
Rabén & Sjögren, 2022.
32 pages.
Foreign rights: Linda Altrov Berg or Lillevi Cederin, Rabén & Sjögren Agency
Annica Hedin is a freelance writer. In 2018 she made her debut as a picture book author with the acclaimed Stig, illustrated by Per Gustavsson.
Hanna Klinthage is an illustrator who primarily works with picture books and animation.