LATEST REVIEW
En annan Edith
(Another Edith)
by Nina Ulmaja
reviewed by Darcy Hurford


Edith Södergran is generally considered one of the greatest modern poets writing in Swedish and is one of the most widely translated poets to ever come from Finland. Born when Finland was still ruled by tsarist Russia to parents who belonged to the Swedish-speaking minority, she attended a German-language school in St Petersburg but lived most of her life in Raivola (now Roschino), at that time over the border in Finland. A background that enabled her to absorb influences from the literatures of at least five languages. A poet with a very clear vision of her capabilities: her introduction to her second volume of poetry, The September Lyre (Septemberlyran, 1918) declares that 'My self-confidence depends on the fact that I have discovered my dimensions. It does not become me to make myself less than I am' (translation: David McDuff in the Complete Poems).
Södergran was also a keen photographer, which is where this book comes in. A number of books have recently appeared in Swedish to mark the centenary of Södergran's death, and En annan Edith is unusual in focusing on the photographs. Ulmaja is an expert on things visual – she has been awarded for her book designs some 30 times within Sweden, twice internationally, has lectured on design and been head of design at the major Swedish publisher Bonniers.
While the photos are online and freely perusable at www.finna.fi, the idea of publishing a selection of them by theme and with accompanying narrative is appealing. En annan Edith is at its best when Ulmaja writes on the use of colour plates, or self-portraits, or the sawmills Södergran photographed, or goes into the development of photography as a hobby, initially mainly for the fairly well-off.
The Karelian village of Raivola where Södergran spent much of her life features prominently, as does the sanitorium in Switzerland where she later stayed. There are photos of relatives, friends and employees, and plenty of pictures of cats (the thought occurs that Södergran would have enjoyed Instagram). There are also some fascinating self-portraits here too, which reinforce the idea that Södergran had a clear vision of how she wanted to present herself.
While the images are enjoyable, the text feels more problematic. Ulmaja has chosen to write the book in the form of letters to Edith Södergran. Her reasoning is that as a book designer, she is used to corresponding with the authors she works with, and moreover, out of respect, she didn't want to write yet another book about Södergran, but rather write a book with her.
It's an interesting approach. The step away from an all-knowing third person narrative makes clear what is fact and what is speculation on the side of the author and creates scope for her to more freely draw parallels between the photos and Södergran's life circumstances and ideas and events of our time. It also requires a certain willing suspension of disbelief, however, given we know the recipient has been dead a century.
Although the implied readership is the poet herself, the actual readership is primarily the book-reading public in Sweden, and this is where things start to get tricky. While the real Södergran would have known about, for example, the Russian revolutions, Finnish independence in 1917 and her father's tuberculosis, and would be perfectly aware of having been friends with fellow writers like Hagar Olsson and Elmer Diktonius and how many times they met, what they wrote in their letters to one another and so on, the readership might not, and so these details are woven into the letters. Which means the reader gets the necessary background information – but this recapping makes the letters to Södergran seem more contrived and leaves the reader feeling something of an outsider. The informal writing style jars at times – would someone born in 1892, with a cultural capital most of us could only dream of, and a definite idea of her own abilities – appreciate being told 'you were a really cool girl'?
At the same time, there is a lot about Ulmaja's own background – her parents were Finnish immigrants to Sweden, and her grandmother's relatives ended up unwillingly in the Soviet Union, in some cases falling victim to Stalin's Terror, as well as the covid pandemic, which prevented Ulmaja visiting Raivola. While there clearly are interesting comparisons and parallels, perhaps the autobiographical elements would have been better placed in a different book. It feels like two works are struggling to get out here: one a monograph on Södergran's photography, the other a book about Nina Ulmaja and her relationship to Finland via the works of Edith Södergran.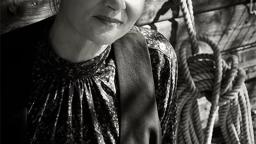 Norstedts förlag 2023.
400 pages.
Foreign rights: held by the author's estate; contact the publisher.
Nina Ulmaja is an author and designer particularly focused on book design. She won the August Prize in 2012 for ABC och allt om D, an illustrated book about the letters of the alphabet aimed at all ages, and together with Alexandra Borg produced Strindbergs lilla röda, nominated in 2018.