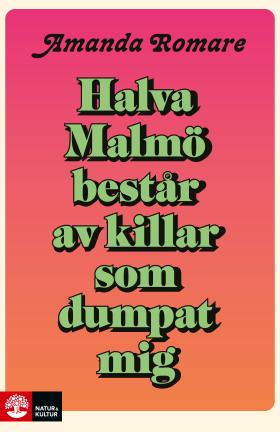 LATEST REVIEW
Halva Malmö består av killar som dumpat mig
(Half of Malmö's Men Have Dumped Me)
by Amanda Romare
reviewed by Kathy Saranpa


In this debut novel, thirty-something Amanda has her own business and a tight group of friends (called Dr Pepper) she often joins for fun adventures, sometimes including whips, mostly for the purposes of picking up men. Is she looking for a real relationship? This is something the reader doesn't know – nor, it seems, does Amanda – until close to the end of the book.
Meanwhile, most of the novel proceeds, diary-style, through what seems like an endless chain of disappointments, often with men she has swiped right on in the Tinder app. Amanda's goal is to get to the third date – just the third. At some points, the novel reads like the reverse of Mozart's Catalogue Aria – all the men Amanda either didn't hear from again after a night in her bed, or who suddenly had a new (or old) girlfriend, or who simply said there wasn't a connection. And then there's the bartender who gets too drunk to follow up on plans to come over. In some ways, according to the author herself, this book is a single yell of frustration with Tinder.
At the same time, the reader identifies the reasons why Amanda can't get a third date, some of which she herself knows all too well. She comes on too strong when texting (and sexting) the man who is her current mission. She lacks the patience to allow a dating relationship to develop on its own. She adapts her own needs and opinions to the potential beau on whom she has set her sights – exemplified in the scene where she decides she could be interested in BDSM because the fellow seems a good candidate otherwise. She appears to be addicted to men, or to the idea of having a man, or to sex. At several points, the reader is practically screaming at Amanda to leave the phone alone or to find a (different) hobby. Amanda herself is aware of her lack of patience and poor impulse control – indeed she makes fun of herself endlessly – but at times the self-deprecating humour takes on a very dark cast and makes the reader worry about her mental state.
Half of Malmö is an entertaining read, full of humour, real-life dilemmas (what is the correct way to tell a man you have to remove your tampon before sex?) and razor-sharp insights. However, for those who are not fans of cringe, it may be an uncomfortable read. (The novel begins, after all, with the sentence 'I'm sitting here taking a shit.') All too often the reader needs to put the book down and shake her head at yet another instance of Amanda marching – with open eyes – straight into humiliation or swallowing her emotions to write a casual, clever text message after another rejection. One is left, oddly enough, with almost the same feeling one has after watching Don Giovanni. Are we supposed to laugh at all of the Don's conquests, or try to tease out his motives? The answer may be 'both'. The author pokes fun at Tinder culture while portraying its utility in a large city at the same time as she honours the community of single women who support each other through the dating/mating game. Romare has made a strong debut, and readers will not only want to know how she gets to the third date, as well as what happens thereafter.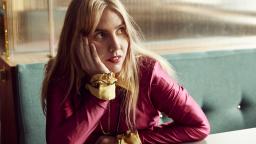 About
Halva Malmö består av killar som dumpat mig
Natur och kultur, 2021
310 pages
Foreign rights: Rik Kleuver, Sebes & Bisseling Literary Agent
Amanda Romare is a screenwriter, podcast creator, author and producer. Half of Malmö's Men Have Dumped Me is her literary debut.