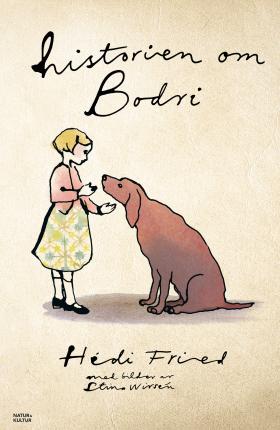 LATEST REVIEW
Historien om Bodri
(The Story of Bodri)
by Hédi Fried
with illustrations by Stina Wirsén
reviewed by B.J. Woodstein


Hédi Fried, who died in 2022, was a Romanian Holocaust survivor who moved to Sweden after the war and spent much of her life thereafter witnessing to the events of World War Two and trying to educate people about it and discrimination. Besides writing memoirs about her experiences, she also published Frågor jag fått om Förintelsen (Questions I've Gotten about the Holocaust) in 2017 and her only children's book, Historien om Bodri (Bodri's Story), in 2019.
The book about Bodri tells the tale of Hédi as a little girl. She adores her best human friend, Marika, and her best furry friend, her dog Bodri. Bodri and Marika's dog Bandi also have a close friendship. The only difference between Hédi and Marika, it seemed, was that Marika went to the church to pray, while Hédi and her family were Jews who went to synagogue.
When World War Two came to Romania, Marika was no longer allowed to play with Hédi, and Bandi could no longer play with Bodri. Hédi couldn't understand why she was hated just because she was Jewish.
Hédi and her family were forced to leave their town and to get on a train to a concentration camp. As they were being marched through the park to the train station, Bodri followed them and licked Hédi, and the soldiers kicked the dog; the reader gets the sense that this could be the last time Hédi will see her beloved dog, but that that little lick gave her courage and reminded her that she was loved.
Fried does not go into too many details about her time in the concentration camp in this book, although Stina Wirsén's sensitive illustrations capture the isolation and fear Hédi and her sister felt, and their painful thinness, with loose garb hanging off their bodies and wooden clogs too big for their feet. Fried does explain how it was Bodri that helped her find the strength to keep living. Thoughts of Bodri gave Hédi a focus whenever she was tired or sad.
When the war ended, Hédi and her sister Livia had survived and they went back to their town. Hédi found her dog, who had been waiting for her. And she determined then that she would devote herself to talking about what had taken place during the war, in the hope that history would never be repeated.
The reader never finds out what happened to Bodri after this, although one hopes he lived out his life with Hédi. It is noted that some of the details in the books have been changed, to make the story more accessible, which means that it is a much simplified introduction to the Holocaust.
Fried's book has won a number of prizes, such as the Monthly LUCHS Preis and was picked as an USBBY Selection and as one of Tablet's Best Jewish Children's Books of 2021. The rights have also been sold to a variety of languages/regions, including North America (although world English rights are still available), Korean, Romani and Yiddish.
Historien om Bodri is a moving tale, with illustrations that starkly portray the passing of seasons and the way that Fried and Bodri's lives change over time.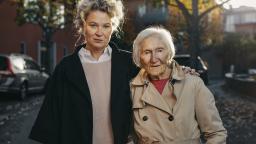 Natur & Kultur, 2019.
Rights: Bonnie Halling Lindholm, Natur & Kultur.
Hédi Fried (1924-2022) was an author, psychologist, and public lecturer who spoke internationally on the value of democracy. The Story of Bodri has been published in North America by Eerdmans Books for Young Readers, translated by Linda Schenk. Frågor jag fått om Förintelsen (Questions I've Been Asked about the Holocaust) was reviewed in SBR 2017:2 by B.J. Epstein.
Stina Wirsén is a Swedish designer and artist whose work has been exhibited across the world.