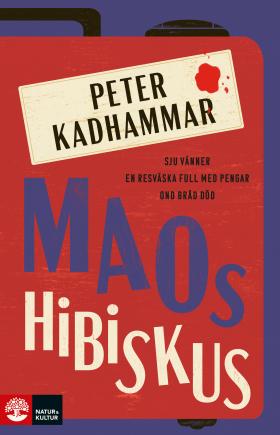 LATEST REVIEW
Maos Hibiskus
(Mao's Hibiscus)
by Peter Kadhammar
reviewed by Catherine Venner


What would you do if you were entrusted with a suitcase full of money, and then the person who gave it to you disappears without a trace?
That is exactly what happens to Jan Bergman as a young student in the late sixties. But instead of going on a spending spree, committed Maoist Jan chooses to honour the promise he made to the attaché at the Chinese embassy in Stockholm who gave him the money. He forms a committee of like-minded friends, and they decide to invest the money so that it doesn't lose value, and appoint Lars, the Swedish Maoist party leader, as their advisor. They first invest in H&M, believing that they pay living wages in the low-income countries of production while simultaneously enabling the Swedish working classes to clothe themselves. The profits they make greatly exceed the inflation rate and they start to doubt if their politics really align with H&M. Meanwhile, in Gorbachev's Russia, investment opportunities are plentiful; after Minka, who works at the embassy in Moscow, receives a tip off, they invest in a Siberian oil and gas company. Once again, their investment soars in value, attracting the attention of the Russian secret services. The profits are held in a Swiss bank account that can only be accessed when each of the friends inputs their own secret four-digit code.
In the meantime the friends go about their normal lives: Jan as an investment banker, Minka in the foreign service, Lisa as a teacher, Acke running hotels and Göran as an engraver, while Lars, Nicke and Eskil publish left-leaning books, pamphlets and blogs. They meet once a year to discuss the money; that is, until Lars is killed by a potted hibiscus falling from a balcony. Initially they dismiss this as a freak accident. Coincidentally the plant was said to be a cutting from a hibiscus presented to a Swedish academic by Mao himself.
Soon after, Nicke is found dead and Inspector Magnusson from the Stockholm police contacts Jan. Hearing of Nicke's death, Jan uses secret messages to call the committee to a meeting at Eskil's home, but when he arrives there, Eskil has also been murdered. Once more Inspector Magnusson is sent to investigate. On seeing Jan again, she starts to suspect that his friends have something to do with the murders.
While Magnusson begins her investigation, we discover the history of the money, told through the eyes of Jan and Minka. We learn how Jan was invited to the Chinese embassy where he met with Zhu, who gave him the money. However, when Jan tried to return the money after a regime change in China, there was no record of Zhu at the embassy. As an exceptional student of economics, he was then offered a doctoral position and went on to be employed by one of Sweden's oldest banks. Over the years, Jan maintained a romantic relationship with Minka, who was working her way up the ranks in the foreign and diplomatic service. She was stationed in Moscow twice, and during her first posting she fell prey to a honey trap set by the KGB. Nevertheless, on her second time in Russia, she received a tip-off about the shares in the oil and gas company and persuaded her friends to invest in it by assuring them that would preserve Russian wealth for Russian workers instead of unscrupulous oligarchs and investors.
The next victims are Lisa, Göran and their spouses, and it becomes clear that the Russian state is interested in again owning the oil and gas company. After being taken into a sort of protective custody by Magnusson, the three remaining members agree to sell their shares, although the Chinese embassy once again refuses to accept the money back.
Told over two different timelines, Maos Hibiskus visits major events in world history that affect the protagonists and the money. Full of eagle-eyed observations about both Swedish society and international politics, Kadhammar's writing takes us on an entertaining quest to steward Maoist money against high inflation rates, globalisation and the Russian secret services. The novel gathers pace as all the different pieces fall into place and makes for a thrilling read.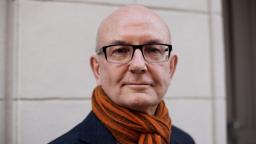 Natur & Kultur, 2023.
440 pages.
Foreign rights: Richard Herold, Natur & Kultur.
'Mao's Hibiscus' is the first fiction book by award-winning Swedish journalist Peter Kadhammar. He has already published several non-fiction books.